School Funding: How It Works
Hang on for a minute...we're trying to find some more stories you might like.
What does the school's funds go to? According to school principal Kerrie Katz, the division of school funds goes through a few different things. "So for every student who is at school, we get what's called our average daily attendance, and so if you come to school we get a certain amount of money for you being here every single day," Mrs. Katz stated, "and that comes from the state, that comes from the government." She also said that once we have that money, then as a district, as a board of education, they sit down and figure out how much money they need to keep back for big projects versus how much money they need to send to the school for it to function productively throughout the school year. As the principal, she meets with our superintendent and our finance director multiple times throughout the spring semester to figure out exactly what that allocation looks like. Then she brings it back to the school and "pokes holes" in it, so to speak, to see what else we need that we haven't gotten as far as a money figure. The whole process is essentially a formula.
All of that money goes into an account at school once it's all decided how much we get. At that point, our SBDM Council has full control over that. "Our SBDM gets to vote if the math department gets new calculators or if we have to buy new AP books. It's a vote and we all decide as a group of eight people if that's how we're going to spend that money," Katz said, "And there are a ton of grants and things. There's something called title money that also comes from the federal government. We've just wrote a grant which got our RTI program, and that came with two chrome carts. That was a grant that came so that wasn't money that we had to spend." Basically, this all means that the SBDM Council votes on stuff like if we get more chrome carts. Katz also said that she and the other administrators sit down and discuss what they need after she talks with the superintendent. "We sit down and figure out what we need, how many teachers we need, how many classified employees we need, it's all based off of a formula too. So I can't go down there and say 'I want ten more teachers.' Well, based on our student population I would never have that granted. But if I need one more and I have really specific reasons why, then they could take it to the board for it to get voted on to give us that."
Now onto the biggest question everyone has: why do certain programs have more money than others? Well, it's not favoritism as many seem to think. "All of our programs do their own fundraising, so it's whatever gets fundraised is what that program has," Katz explained, "We want all of our programs to be equal, it's just some programs do more fundraising than others, and then if they need anything they can come to SBDM. But we're pretty careful on how we spend our money because we have a budget that dwindles as the year goes on, so we have to be very selective." She also said that there is never an intent for one program to have more money than the other, it's just that they rely on fundraisers to make more money for those programs.
For those who are wondering how to ask for more funding for specific programs, Mrs. Katz said that the SBDM meetings are on the second Thursday of every month, and they meet at 4:30 p.m. in the library as a council. These meetings are always open to the public and as long as it's a regularly scheduled meeting, anyone can come and bring a request or idea to them. "We'll listen and we'll deliberate and we'll discuss, and we'll go from there," Katz said.
About the Writer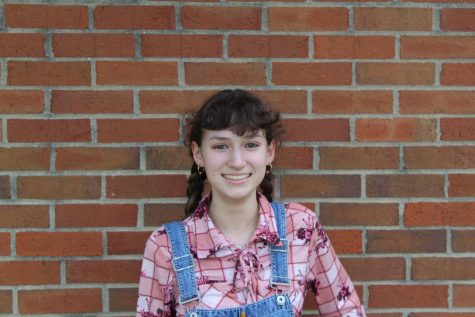 DeeDee Barnett, Assistant Associate Editor
Hi there! My name is DeeDee, and I am a junior at Bourbon County High School. I am a part of many clubs here including: POP Club, Recycling Club, and Prom...