2018 Social Review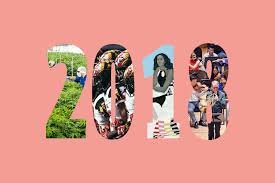 This year has been a whirlwind of changes and breakthroughs.  From the birth of Kylie Jenner's baby to breaking artists like Billie Eilish coming through, 2018 has given everyone something to pay attention to.   Kylie Jenner broke every news source when she posted her pregnancy video where she introduced us all to her daughter Stormi and gave a true look at pregnancy. Everyone was going crazy about this new information coming from the famous, Kardashian-Jenner clan.
Many celebrities announced and ended their relationships (almost as suddenly). The most memorable one would have to be Pete Davidson and Ariana Grande. These two had a very short-lived relationship of only 5 months. If you don't know the scoop on these two you must be living under a rock. Pete Davidson and Ariana showed much love and respect for one another and everyone either thought it was going to last forever or it would be over soon. Pete's life might have been most affected as he handled a lot of backlash during this whole relationship.  Between the jokes about the Manchester bombing or about their private life, he seemed to never be free. A lot of Ariana's fans did not like him at all and she stood up for him countless amounts of time.   She profited from her love woes in her music.  In November she released a song called "Thank U, Next".  It not only spotlighted her relationship with Pete but also Ricky and  ex Malcolm who was one of the many famous celebrities who passed this year.
We also mourned the loss of President George W.H. Bush who sadly passed on November 30th of 2018. Stan Lee, the creator of some of the most famous comics we know like, Spiderman, Iron Man, and etc. passed on November 12th of 2018. US Senator, John Mccain, passed this year as well. In June 2018 famous rapper xxxtentacion was assassinated. He meant a lot to many people and so many people were devastated to hear about his death.
2018 also saw some triumphs.  We were blessed with new artists such as Billie Eilish who is dominating the charts right now. Her music has skyrocketed with her newer singles such as "Lovely","Iidon'twannabeyouanymore", and more.  Some existing artists also established them selves this year. Brendon Urie of Panic! at the Disco who has had a huge success this year with his charting song "High Hopes"  exceededted his first hit, "I Write Sins not Tragedies" (2006). This year has marked a new era for Brendon alongside with his newer members. Brendon is now the only remaining original member and is doing really well even to this day.
The Box Office also touted enormous success this year.  Over this year we have had incredible movies such as Bohemian Rhapsody, Black Panther, Love, Simon, Ready Player One, and so many others. These movies have done incredibly well at the box office making millions. You couldn't go anywhere without hearing about these movies, everyone was talking about them. 
This year has been so incredible in the arts and music and I hope in 2019 it's as amazing.