Jesus Events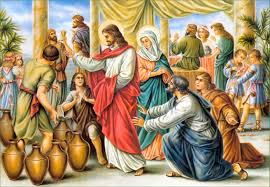 Turning water into wine
A wedding took place in Cana of Galilee; Jesus, his disciples and his mother went. The wine ran out and Jesus' mother told him about it. Jesus responded saying, "My hour has not yet come." Jesus' mother told the servants: "Do whatever he tells you." 
Six stone jars full of water was there. Jesus told the servants: "Fill the jars with water to the brim." The servants filled them to the brim with water. Jesus told the servants to draw some water out and take it to the head waiter, so they did. The headwaiter tasted the water, which was suddenly turned into wine. The headwaiter did not know where it came from, but the servants did. 
The headwaiter called the groom and told him, "Everyone sets out the fine wine first, then after people are drunk, they set out the inferno wine. But you have kept the fine wine until now." Jesus did this, the first of his Singhs in Cana of galilee. He revealed his glory, and his disciples believed in him. After this, Jesus, his disciples and his mother stayed in Capernaum for a few days. 
An Adulteress Forgiven
Jesus went to the temple, and all the people came to him. Jesus sat down and began to teach them. The scribes and the phrases caught a woman in adultery. They brought her to Jesus saying "Teacher, this woman was caught in the act of adultery." They continued, "In the law of Moses, it commands us to stone such women… so what do you say?" The people asked this to trap him so that they could have evidence to accuse him. 
Jesus stooped down and started writing on the ground with his finger. When they continued to question him, Jesus stood up and said, "The one without sin, you cast the first stone." Then, he stooped down and began writing on the ground again. When they heard his words, they stepped back one by one, starting with the oldest to the youngest. Only Jesus was left with the woman. Then Jesus stood up and said to her, "Women where are they? Has no one condemned you?" She responds, "No one, Lord." Jesus said "Neither do I condemn you," he continued, "Go, and from now on, do not sin anymore."