Martin Luther King, who was he?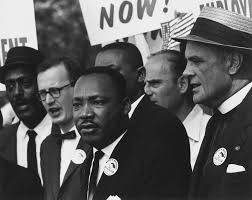 On January 20th, we got a three day weekend.  Most saw this as an opportunity to have some free time off and some just got excited that we had no school, but it seems as if we forgot who the real reason was that we were out. The real reason was to celebrate an important man's legacy, Martin Luther King Jr. What he did for us was outstanding and what he did for others, by fighting for their rights was something downright beautiful. This is the reason we need to be reminded of who he is.
On January 15th, 1929 Martin Luther King jr had been born in rural Georgia, he was born as the middle child. Life was hard for him as a kid. He witnessed a lot going through the racial injustice society had placed against him and having his heart broken by the news that his grandmother, who he had dearly loved, had passed away. Sadly, he was so distraught that he ended up trying to jump out of a two-story window, trying to commit suicide.  I never knew this about him and it made me so distraught because so many people only saw him as a beacon of strength. Even though life as a child and into his teen years, were rough for him, he still was headstrong and even ending up entering college at age 15. As a sixteen-year-old I could never even think about myself being advanced enough to start college, let alone skip the 10th and 11th grade. During his work to get his doctorate he had met his future wife, Coretta Scott, they had four children together after they had got married in June 1953. 
I feel as if a lot of us know his achievements but yet we don't KNOW exactly what they all were. Prior to the night Rosa Parks, a woman who refused to give up her seat to a white man, E.D. Nixon and Martin, was arrested, she and lots of other civil rights activists got together to plan the Montgomery Bus Boycott. Another huge thing that happened is the march on Washington. During this march he gave his most famous speech, "I Have a Dream".  This speech is most likely well known because of how powerful and meaningful it was. He spoke about how he wishes that his children could live in a world where they are not judged by what their skin color was, but who they were in the heart and soul.  His wish is something that should always be a reminder of how important it is to see others for who they are. No one should be discriminated against for what race, sexuality, or gender, they deserve to have the same amount of respect as we all do.  Sadly, I think our world sometimes forgets that.