Gone, But Not Forgotten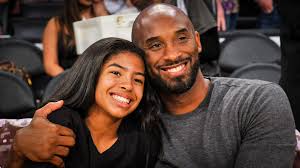 On August 23, 1978, a basketball legend named Kobe Bryant was born. On January 26, 2020, tragedy struck and he lost his life along with Gianna Bryant (his daughter), John Altobelli, Keri Altobelli, Alyssa Altobelli, Christina Mauser, Sarah Chester, Payton Chester, and Ara Zobayan. They all died in a helicopter crash. This was a sad day for everyone.
Bryant was a shooting guard who played his entire 20-season career in the National Basketball Association (NBA) with the Los Angeles Lakers. Since his death, lots of things are petitioning to change. For example, there has been a petition to change the NBA logo to honor Kobe. it has got more than two million signatures. Celebrities such as Snoop Dog, Justin Bieber, and Namoi Campbell. "With the untimely and unexpected passing of the great Kobe Bryant please sign this petition in an attempt to immortalize him forever as the new NBA Logo," Nick M (creator) wrote on the Change.org petition. As you can tell, everyone knew Bryant was dedicated to his work and he loved playing the game.
As did his daughter, Gianna Bryant. Now, everyone knows her by Gigi. her father used to call her Mambacita. She was 13 years old. She wanted to continue her dad's legacy. While being on the helicopter, she and her dad were on their way to Mamba Academy. Gianna played on the lady Mamba basketball team. She was going to be basketball's female version of him. She was going to play at Connecticut and head to the WNBA. As you can see, she and her dad both really enjoyed playing basketball, they loved the game.
It is very sad to say Kobe is gone. It is sad to say Gianna is gone. It is sad to say that everyone in the helicopter crash is gone. Kobe was a basketball legend and his daughter was soon to be one. Rest in peace to everyone that was on the helicopter.