Welcome to the Golden Gala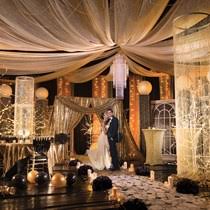 As a little girl, I used to love watching my older cousins walk into prom.  I couldn't wait till I could wear a pretty dress, heels, and have my hair fixed all fancy.  Some people say they hate prom, but overall, it's a way to spend more time with your friends and a night filled with socializing and dancing.  You might only stay at prom for thirty minutes, but it's still fun to get dressed up, take pictures, go eat with your friends, walk-in, dance, laugh, and have a good time.  The theme for prom this year is a golden gala.  A golden gala theme gives off great gatsby vibes.  The decorations are supposed to be extravagant, elegant, and show-stopping.  However it's not the theme of prom that most people go back and forth with, it's what color prom dress, how you should fix your hair, and who you should take as your date.
Some trendy types of prom dresses I've seen are form-fitting spaghetti strap dresses, lots of sparkles or bedazzled dresses, and very bright colors.  You could decide between a ballgown, a mermaid style, or a form-fitting type of dress, anything you feel your best in.  Some guys are even getting creative and wearing colored, sequined, or patterned suits.  You could wear your hair in a cute ponytail, down, or half-up, half-down.  There are so many different options and you could even schedule an appointment to get it fixed or do it yourself.  No matter what you decide, prom will be a really fun experience, especially if you've never attended before.  It's a night to get dressed up, meet new people, and socialize with friends.  Not to mention, all the Instagram posts you're gonna have!  Whatever you do after prom, it will be fun because you'll be with your friends after having a great night of taking pictures, eating, and dancing together.