VMAs Recap
The VMAs this year were filmed in New York, NY on Sunday, August 30 at 8:00PM EDT, hosted by Keke Palmer. This VMA recap includes, winners, performances, most awards won, and so much more. 
This year's VMAs were a bit different due to the global pandemic. Masks were a pretty big trend at this outdoor show. Ariana Grande and Lady Gaga both took the top spot for most nominations this year, and to no surprise Lady Gaga won the most awards, earning a total of 5 awards. Not too far behind Gaga, was Ariana Grande with 4 awards, and BTS winning three awards for they're song "ON" along with winning the Group award. The Weekend earned Video of the Year for "Blinding Lights," which also got Best R&B. Push Best New Artist went to Doja Cat. The Best Direction award was awarded to Taylor Swift for the music video "The Man" directed by herself. Taylor Swift was also nominated for, Video of the Year, Best Pop, Video For Good, and Best Art Direction. Justin Bieber won a new award added due to the pandemic called Music Video From Home for his song with Ariana Grande, "Stuck With U." 
Most of the performances seemed like music videos, a lot different than the live performances in the past. Performances like Jack Harlow singing, "What's Poppin," and Lewis Capaldi singing, "Before You Go." Along with Miley Cyrus singing "Midnight Sky" for the first time as a live performance. The performances that did give off that original live performance feel, however, included backup dancers with masks. Like Maluma singing "Hawaii," along with the performance of the night by Lady Gaga and Ariana Grande who both sang "Rain On Me," which included Ariana Grande's incredible whistle notes, after Gaga sang a medley of tracks from her newest album called "Chromatica" With masks on, and multiple outfit changes, of course! This was Gaga's first performance back since 2013.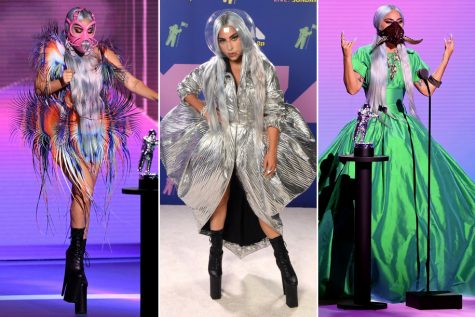 Lady Gaga being stylish and safe, by using a different fashion-forward mask with each of her outfit changes.
Getty Images for MTV
About the Writer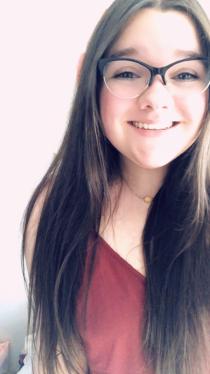 Rhiannon Turley, Staff Writer
Hey! My name is Rhiannon Turley, I am one of the sophomores this year. This is my first year here, and hopefully more to come. I am a very musical person....