Breonna Taylor
 Black Lives Matter. A movement to fight against police brutality mainly against African Americans. This movement has been challenged by politics, mainly from the Republican party with their movement, All Lives Matter. It seems every once in a while this movement gets more attention, like in 2014 when 12-year-old Tamir Rice was killed while playing with a toy gun and allegedly pointing it at people at a park in Cleveland, Ohio. The woman who called the police on the young boy noted the gun was "probably fake,". However, within moments of arriving,  police shot the boy twice in the torso. Tamir died in the hospital the next day. More recently, George Floyd, a 46-year-old man, was killed as Minneapolis police kneeled on his neck as he pleaded "I can't breathe." This was over the fact he had allegedly paid for his groceries with a fake 20 dollar bill.
    Perhaps the closest case to us is about Breonna Taylor. Her story takes place in Louisville, Kentucky. On March 13th, 2020, Taylor was killed in her own home after police executed a no-knock warrant on her and her boyfriend's apartment. Police had been investigating two men who were suspected of selling drugs out of a house far down the street from Taylor's house. The judge also signed a warrant for Breonna's house on suspicions that the two men used her apartment to receive packages. These suspicions came from the fact that Breonna Taylor had an off and on relationship with the man for years, though she had recently severed ties from him completely. 
     On the night police executed the warrant, she and her boyfriend were asleep in their room when their door was broken down by police. Officers claim they knocked several times and announced themselves as police before breaking down their door. However, Taylor's boyfriend, Kenneth Walker, says they never did, which is backed up by his call to the police minutes later when Walker states, "I don't know what's happening. Someone kicked down my door and shot my girlfriend." Once police were inside, Kenneth fired one shot that hit an officer in the thigh and in return officers fired many shots back, five of which hit Taylor. Officers called an ambulance to the scene for the injured officer, unfortunately, Taylor was not given any medical attention. It was at this time Walker called the cops, as he was confused by what had happened, his girlfriend was now struggling to breathe. It wasn't until five minutes after the officer got the help that medical personnel realized Taylor needed any medical attention. She had not received medical attention until 20 minutes after being shot five times. Later the Jefferson County coroner said she most likely died only minutes after being shot and could not have been saved. 
      It was discovered after the fact that no drugs were found in the apartment. The ex-boyfriend, Jamarcus Glover, led police to the apartment that night. He was later charged with drug possession charges. He told sources that Breonna had no connection to the drug trade. Glover also stated, "The police are trying to make it out as my fault and turning the community out here, making it look like I brought this to Breonna's door." 
    So is the officer's account of the night disputed? Yes. In the police report filed there were many many errors. As previously mentioned, police said they announced their presence, though Mr. Walker claimed they did not. On a 911 call, you can hear Kenneth Walker saying "I don't know what's happening. Somebody knocked down my door and shot my girlfriend." According to Walker's lawyer, Rob Eggert, Taylor or Walker knew that they were police, and Walker shot in fear of both of their lives. The police report also stated that Mrs. Taylor had no injuries during the search even though she was shot multiple times. It also indicated they used no force to enter even though they used a battering ram to break down the door and enter into the home. Breonna's family also thought it was ridiculous that they felt the urge to do this during the middle of the night while they were sleeping and the main suspect in the investigation was already detained and in police custody. 
       During all of this, many well-known people have stood up and publicly taken Breonna Taylor's side. On Taylors 27th birthday earlier this year, Senator Kamala Harris showed her support on twitter saying that Taylor's death was horrifically taken by officers who had not been charged 84 days after her killing. In the tweet, she also stated "Keep calling for justice. #SayHerName." This hashtag started a movement and also brought attention to other African American women with similar stories like Tanisha Anderson and Atatiana Jefferson. Another known name in support of Breonna Taylor is a TV personality, Oprah Winfrey. On July 30th, Oprah did not appear on the cover of O: The Oprah Magazine for the first time in years. Instead, it featured a portrait of Ms. Taylor by young artist Alexis Franklin. When asked about this decision Oprah had this to say:"What I know for sure: We can't be silent. We have to use whatever megaphone we have to cry for justice." 
    On Tuesday, September 15th, 2020 it was announced that Louisville would be paying $12,000,000 dollars to settle a wrongful death settlement for Breonna. The mayor of Louisville, Greg Fisher, has also announced a set of police reforms. These reforms are aimed to provide more oversight for the city's police department and incentives for police officers to build stronger relationships with the community. As for the officers, officer Hankinson was charged with three counts of wanton endangerment for the shots fired into the other apartment. The other two officers who were present that night were not charged. 
   Breonna Taylor's mother asks us to remember her name and keep fighting for justice for her daughter. So in the words of Kamala Harris and countless other people around the world, say her name. Breonna Taylor.
About the Writer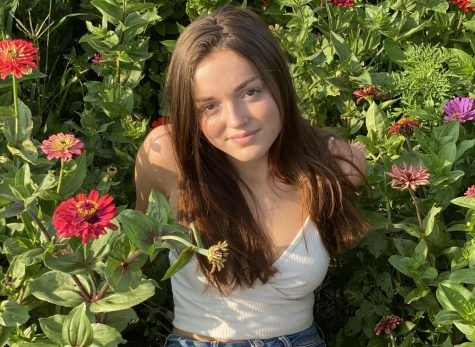 Layla Puscas, Staff Writer
Hello, I'm Layla, this is my first year in Journalism. In my spare time, I like to read, listen to music, watch Netflix, and be with my family. I am 16...