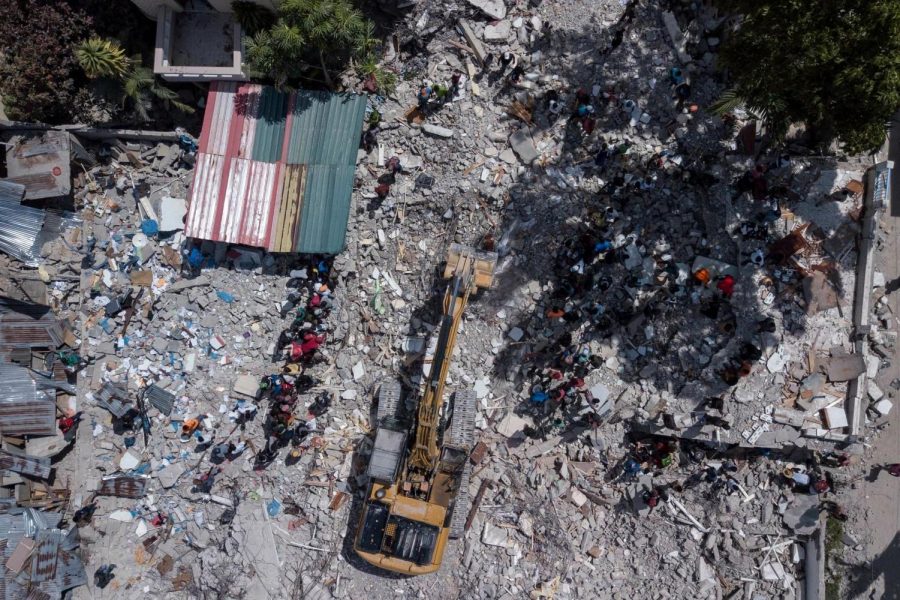 On Saturday, August 14th, life in Haiti was again disrupted. A 7.2 magnitude earthquake was reported from Haiti, the western country on the island of Hispaniola. On August 22nd, Haiti's Civil Protection Agency reported a toll of 2,207, with 315 people still missing, and ​​12,268. On August 14th, Les Cayes, the city on the western peninsula which was greatly affected, reported 1,500 homes destroyed and 3,000 more damaged. It was estimated that 7,000 homes were destroyed and 5,000 damaged, leaving 30,000 families homeless in the entirety of Haiti. As of August 22nd, the agency estimated that 53,000 homes were destroyed.
Many hospitals attempting to serve victims had to evacuate because of concerns of structural integrity. The Les Cayes Ofatma hospital transferred its patients outside due to these concerns. Compounded with this issue is the remoteness of the region, making access to basic supplies extremely hard to receive and deliver. In an interview two days after the earthquake with NPR's Mary Louise Kelly, Ronald Jocelyn, director of education program Hope For Haiti, said that "[the Haitian people] are suffering" and "lack everything, like medications, medical supplies, food and shelters." This only further contributes to the COVID-19 crisis which has been ongoing for months. 
The earthquake came almost a month after the assassination of the former President Jovenel Moïse. The assassination of the President and the subsequent power struggle due to constitutional confusion created major political instability in Haiti. When asked about the exhaustion the Haitian people must feel as a result of these distressing circumstances Jocelyn said, "You know, we can't take it anymore. That's enough for Haiti." He continued by calling on Haiti's "friends abroad" to "join hands and help Haiti for good." 
Various humanitarian efforts have been attempted by the United Nations through their Office of Humanitarian Coordination. Les Cayes and the region most directly affected has become a "hotbed" for gang activity, even before the assassination of President Moïse. This previously posed complications to humanitarian efforts, but the Office of Humanitarian Coordination reported that local officials negotiated to allow for humanitarian convoys to pass through the  Martissant region. 
Unfortunately, devastating natural disasters are nothing new for Haiti. In 2016, Haiti faced mass infrastructural damage when Hurricane Matthew swept across the Caribbean. Matthew landed in Haiti as a category 4 hurricane with winds up to 145 mph. In 2010, the 7.0 magnitude earthquake devastated the country. The Haitian government reported the death toll at more than 300,000. Evidence even suggests that major earthquakes occurred from between 1751 and 1860, causing mass destruction to Port -au -Prince. The recurrence of these natural disasters creates even more infrastructural issues when built to withstand either hurricanes or earthquakes only. Due to Haiti's geographic position not only on a fault line between two active tectonic plates, but also within the Hurricane belt,  it is predisposed to earthquakes and severe storms. 
 In the wake of this earthquake, Haitians once again faced another natural disaster: tropical depression Grace. The tropical depression was reported topping speeds of 40 mph. According to the U.S. National Hurricane Center, the depression dropped as much as 15 inches in some regions from between Aug. 15th and 16th.  This came as tens of thousands were displaced, complicating recovery plans.