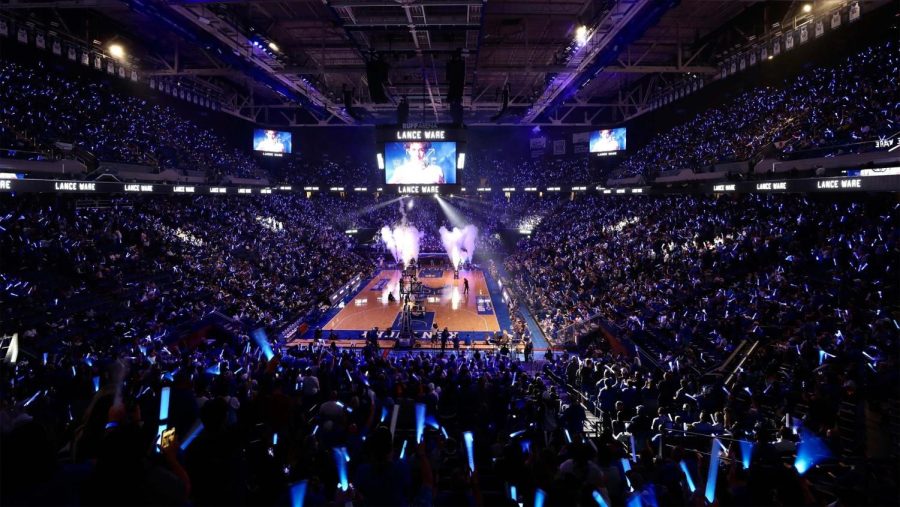 UK Athletics
Big Blue Madness is a huge deal when you live in Kentucky. Fans from all over the state of Kentucky come together to cheer on their favorite team, the UK wildcats. I recently went to Blue Madness and they introduced the new men's and women's basketball teams, cheer team, and dance team. The tickets for the event sold out in less than an hour. It featured practice drills and getting to know each player and coach. 
Coach Calipari made a speech saying, "The ground is shifting beneath our feet. And we have to be nimble and flexible. But the vision of this program has not changed: Putting players first, helping them reach their dreams remains our mission. When they succeed, we all succeed."
The coach and mascot also had a pretty cool entrance to the court as well. They went down from the ceiling on a rope. 
Sadly, the UK lost a player, Terrence Clarke. He died last spring in a car accident. The UK team presented the family with a pair of custom high-top shoes, one with the number five and the other with his face. Rest in Peace, Terrence Clark. 
Point Guard designate Sahvir Wheeler was injured near the end of UK's Pro Day practice on Monday. He was helped off the court and unable to put weight on his left ankle. According to Kentucky.com, Wheeler credited UK's medical staff and being in the training room "constantly" for his quick recovery. Wheeler said, "I feel great right now. If the national championship was tomorrow, I'd be playing."
When I went to the Blue Madness event at Rupp Arena, I remember every single fan being so pumped. They were all so excited to see their favorite team in person. Fans supplied foam light sticks to cheer the teams on. I loved being there. Everyone was in such high spirits. All the fans had smiles on their faces and yelled, "GO BIG BLUE!" Wishing the Wildcats the best of luck in the upcoming season!