New School Year Brings New Cameras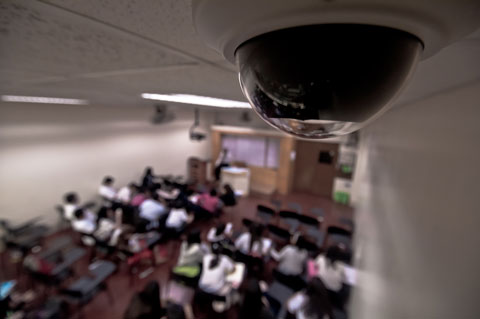 When students and teachers returned to BCHS for the 2018-19 school year, they were welcomed by additional security features.  The renovation of the main entrance might have been the most obvious addition but many were surprised to see that the school had added a camera to each classroom.   We asked students and teachers how they feel about these new additions.
Principal Kerrie Katz said  "After all of the school shootings last year, safety became a top priority for the district and we got a donation of $25,000 that had to be used for classroom cameras.  The board obviously accepted that donation and we purchased classroom cameras.   It's already been very beneficial. Some people have lost certain items, there have been some different issues that we've had to look into and the cameras have done a wonderful job of making sure that we have the full story of things like that."  Katz assured us that "they[cameras] are not there to evaluate teachers.  That is never how we're going to use those.  They are strictly there just to supervise kids and make sure kids are safe if there's ever an incident."  Despite the benefits of the cameras, opinions vary on the subject.  For instance, Brandon Casey stated, " I feel like they ain't gonna do nothing at all and they are just a waste of money."
     Many students, staff, and teachers also think it was a great idea to install cameras. Assistant principal,Kelly Macintosh, said " I am excited about the cameras because I think in the day and time that we live in, we have a lot of safety issues and I do not want to put your life or our teachers in danger.  That will let us know exactly if we have a problem beginning or what we can do to take care of it.  We're not using the cameras as evaluation tools for our teachers, we are just using them if there is a problem that arises.  That will perhaps allow us to see the context and see exactly what  was said so that we can take care of it in a timely manner".  Many students seem to be less bothered by the cameras.   Lucas Rodriguez (LUKE7TEEN) said " They really don't bother me because I don't even be paying attention to them when I'm in the classroom I just sit there, do my work, and listen to the teacher.  I don't pay attention to the cameras."
This isn't the first time BCHS has been greeted by this type of change.  The first cameras ever brought to BCHS were placed in the hallways and other common areas.  Though they were not in every room, they were indeed effective. The first cameras were installed in 1998.  Unlike the cameras that were installed in common areas such as the hallways, the cameras introduced this year have been placed in a location of the classroom that will allow officials to see the door and the majority of the classroom should the need arise.
It has been 20 years since the installation of the first cameras and BCHS is giving school safety a closer look each year to find more effective ways to protect and insure the safety of the students and teachers. Creating an environment that allows students to learn with  reduced anxiety about school safety is a top priority here at Bourbon County High School.