Principal for a Day in Bourbon County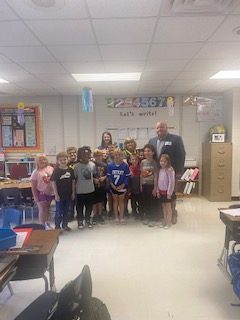 When thinking about the many moving parts of the education system, we must think about those who lead, train, and become the figurehead for each individual building: the school principal. The purpose of the principal is to make sure everything is under control and to make sure the students are safe. With this being said, why would we consider inviting someone who isn't a principal into the building to spend the day as a principal? In Bourbon County, each school building hosts the Principal for a Day event, in which they invite local community members to our buildings. During this time, the stand-in principal has the ability to see how each building cares about the kids as well as receive the opportunity to spend time with students and staff and teach students new skills. 
Mr. Gee Davis Wilson was Principal for the Day at Bourbon Central Elementary School on Monday, October 24th. Mr. Davis is the County Attorney for Paris/Bourbon County. His wife Sami works at Bourbon Central, and his children, Samuel and Barrett, both attend Bourbon Central. Mr. Davis and Bourbon Central Elementary School principal, Dr. Neely Traylor, toured the building and visited many classrooms where students were able to ask questions about his job. They are very grateful to Mr. Davis and his support of Bourbon Central Elementary School and want to thank him for spending some of his busy days with them. 
In the Bourbon County Preschool Head Start, Judge Mike Williams visited the school to be the Principal for a Day. Gina Bach said "We asked Judge Williams to come to our school because we feel it is important for elected officials to have an understanding of the Preschool Head Start program.  Early Childhood learning is an essential building block in their educational experience. Children who attend a Preschool program are more successful in their transition to Kindergarten. Judge Williams visited a classroom, interacting with and reading to the children. He also spent time at the lunch table helping the children and talking with Ms. Heidi Smits, a classroom teacher." 
After hearing from both schools, we can learn the importance of having community members interact with our faculty and students. We look forward to seeing who the remaining schools will select for Principal for a Day.