Big Snowstorm Hit Southern California And The Sierra Nevada Mountains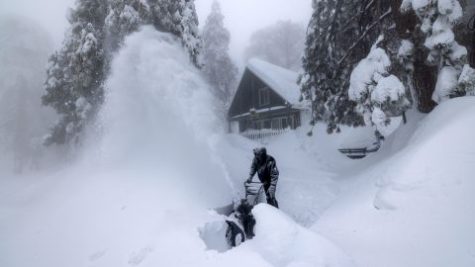 Communities of Southern California and the Sierra Nevada Mountains were hit with a large snow storm that covered some citizens' cars and even their houses. These two locations were supposed to receive up to sixteen or more inches of snow in a week! As a result, many flights were canceled due to the snow storm and the amount of snow that they were expected to receive. Unfortunately, not that many people could evacuate. The snow storms don't stop there, however, the Sierra Nevada Mountains are supposed to get another snow storm that could possibly be five more inches of snow. Firefighters and other rescue teams were, and still are, struggling to dig families out of their houses where they were snowed in. Some families have not been rescued and have been snowed in for weeks; they are starting to run out of basic supplies that they need to survive.
Another devastating thing is in a little town in California the only grocery store closeby, their roof caved in from all of the snow, which is the same with some other buildings and houses, but it left people without a way to get food when and if they ran out. This snow storm was not expected, especially because California does not get snow often. It's like one in a millionth of a chance. You're probably wondering if anyone died or did everyone survive? There were more than 10 people pronounced dead.
California's people continue to strive through this time in their life where everything is chaos and not very familiar territory. This might help them better understand what the weather will be like and that snow can come by surprise, so always be prepared. Californians are probably going to struggle to get back up on their feet, but they will have the help of their fellow communities and states.