The NBA Playoffs Are Finally Here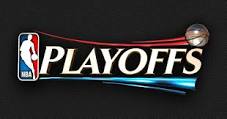 The 2023 NBA Playoffs began Saturday, April 15th. Here are the teams and the first-round matchups. First, with the Eastern Conference, the first-seed Milwaukee Bucks will play against the eighth-seed Miami Heat. The Second seed Boston Celtics will take on the seventh-seed Atlanta Hawks. The third-seed Philadelphia 76ers will take on the Sixth seed Brooklyn Nets. For the East, the fourth-seed Cleveland Cavaliers will face off against the Fifth seed New York Knicks. Now, for the Western Conference. The first-seed Denver Nuggets will take on the eighth-seed Minnesota Timberwolves. The second-seed Memphis Grizzlies will face the seventh-seed Los Angeles Lakers. The third-seed Sacramento Kings will try to take down the reigning champs, the sixth-seed Golden State Warriors. Lastly for the West, the fourth-seed Phoenix Suns will take on the fifth-seed Los Angeles Clippers.  
According to FanDuel Sportsbook, the Boston Celtics are the favorites to win the NBA Finals this season with the odds of +290. Also, The Brooklyn Nets and the Atlanta Hawks are tied with the worst odds with +50,000. In between those three teams, however, The Milwaukee Bucks have the second-best odds with +320. The Phoenix Suns with odds of +550. The Philadelphia 76ers with odds of +650. The Denver Nuggets' odds are at +800. The Golden State Warriors with +1300 odds. The Los Angeles Lakers with +1600 odds. The Sacramento Kings with +2300. The Memphis Grizzlies with +3900 odds. The Los Angeles Clippers have an odds of +4000. The Cleveland Cavaliers with +4100 odds. The New York Knicks with +5000 odds. The Miami Heat with +11000 odds. And finally, the Minnesota Timberwolves with a whopping +49000 odds. 
It's very clear that FanDuel Sportsbook thinks the Brooklyn Nets and Atlanta Hawks don't have a chance to win it all. I don't blame them, both are very young teams with little to no experience in the playoffs. However,  The Boston Celtics are the favorite to win this season. It makes sense considering they have experience with their finals appearance last season, but ended up losing to the Golden State Warriors.