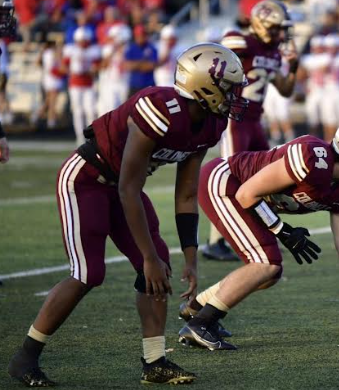 It takes a unique talent to be able to play both sides of the ball, yet Zorian Booker has managed to do that every year of his high school career. Originally playing offensive and defensive line, for his senior year Zorian has changed positions to running back and outside linebacker. An extremely tough change, especially considering that Zorian had just come back from an injury that he sustained during his junior year while playing against Belfry. Zorian has proven that through hard work he is capable of overcoming harsh obstacles.
The sport of football means alot to Zorian, "I've been playing since I was six years old, playing with my brother. All their roughhousing of picking me up and slamming me." This investment is part of what makes Zorian so great at what he does. He has devoted his soul to the game and has stuck with it through the highs and lows, Zorian is one to never back down no matter how bleak the situation looks you'll always see him putting a hundred percent of himself into it.
When asked about his future and how he plans to get better he said, "Getting bigger, becoming as strong as I can, getting my legs stronger and being the best that I can." Continuing on to say "If I could get a scholarship I'd love to play football in college." Zorian has big dreams when it comes to his future with the sport, "I just want to be a great football player, and actually put my name in the history books." 
Zorian's work ethic is unmatched throughout his peers which is one of the reasons that he is not only a leader, but a hard worker and great player. Don't be surprised if one day soon you see his name on the big screen under the Saturday night lights.
Story continues below advertisement