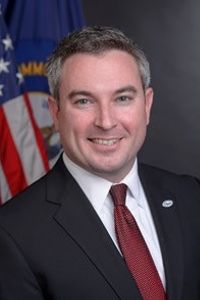 Dr. Ryan Quarles has served as the Kentucky Agricultural Commissioner for 8 years. During his two terms Quarles played a key role in starting new programs that benefited Kentucky and its farmers. In 2021 the House of Representatives passed House Bill 209 which aimed to expand the eligibility for game meat donations. The passing of the bill allowed the UK Cooperative Extension Program and the Kentucky Department of Fish and Wildlife to "receive and donate game meat for the purpose of food distribution and cooking demonstrations for those in need" (Kentucky Proud). Kentucky law allowed game meat donations already, but this bill allows larger Kentucky programs to take part in fighting hunger. Quarles launched the first of its kind Hunger Initiative called the Hunger Task Force that brought together organizations across the Commonwealth. The goal was to study food insecurity and propose an idea on how the problem could be solved. After finding one in five children were food insecure the Force acted quickly and ended up feeding 58 million meals to 611,000 Kentuckians in 2016- the year Quarles took office.  
Quarles hasn't just assisted with expanding agricultural markets but also helped solve international trade issues. In 2017 Quarles acclaimed a new trade accord that lifted a ban on U.S. equine exports to China. This benefited anyone involved with Kentucky's agricultural economy because more buyers (from China) attended equine sales which boosted racing and breeding operations. Being an Ag Commissioner means being heavily involved with Kentucky's farmers, and the next generation of them. Dr. Quarles promoted the Ag Tag program with FFA and 4-H. "The Ag Tag program allows Kentuckians renewing their farm vehicle license plates to make a donation of up to $10 for the Ag Tag Fund." (Richmond Register) The program has raised $4.2 million over the last seven years. Quarles was in FFA and 4-H when he was a student, which is part of the reason he advocates for the continuation of Future Farmers. He attended the 93rd Kentucky FFA State Convention last June where he spoke on his experience with FFA and the importance of the organization across the Commonwealth. 
Dr. Quarles's time as Ag Commissioner comes to an end on Jan. 1, 2024 because he served his two terms. He did run for Governor, but did not make it past the Primary elections against Daniel Cameron back in May. In October, Quarles was selected as the fourth president for KCTCS, a college that provides education for both college students and high school dual credit students. Jonathan Shell ( R ) will serve as the new Ag Commissioner 2024-2028, and possibly the next four years after that depending on what happens. Shell previously served as a State Legislator (D71) before running for Commissioner. He sponsored 25 bills during his time as a legislator. Before his political career, Shell attended Eastern Kentucky University, earning a bachelor's in agriculture business. He owned both Sate Solutions LLC and Shell Farms straight out of college. He joined the House of Representatives in 2013, where his main focus was on agriculture.  
Ryan Quarles has left Shell's new position in a secure spot. It will be interesting to see what Shell gets done as Commissioner since he has already been advocating for agriculture his whole life.
Story continues below advertisement