The Need of Respect For Celebrities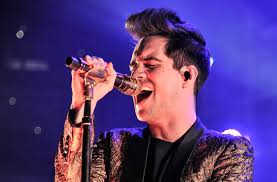 Harassment is something we have all sadly seen in our lives, it's a constant fear everyone has. Sadly we cannot escape these fears no matter who we are, even if we are celebrities. Many people believe even since these people are privileged and have what they believe is "everything" they still have problems we "normal" people have to face. These things happen and sadly too many celebrities feel as if they can not speak about it. One celebrity in particular who is dealing with this issue is Brendon Urie of Panic! At The Disco. If you do not know who this man is let me inform you, Brendon Urie is the frontman of his band Panic! At The Disco.
Panic! Has been around since 2004 and you may know him and the band name from the hit song " I write sins, not tragedies" or from the newest top hit "high hopes". Brendon is now the only original member as the others left due to creative misunderstandings. He has been in this business for years and years but now is having a hard time with harassment. Brendon has recently gone on tour and during one of his songs "death of a bachelor" he will walk through the crowd and shake hands/hug fans. Sadly though when he has been doing this "fans" have kissed his neck and done inappropriate things to him. He has honestly had enough of this and so has his bodyguard/tour manager he said "just a heads up folks. I'm done with this crap of kissing Brendon during the "death walk". If I see it, you will be kicked out of the show right away. The end." Not only are they done, but so are his fans who can't believe the fellow people they are apart of are doing this. Not only is this situation happened to Brendon, but to many others, not just celebrity to fan. Many celebrities have reported them being sexually assaulted. Sadly most people do not know or necessary care because they believe celebrity shouldn't care and be prepared for these things as it is "their job". Harassment isn't a part of the job and the conversation which isn't talked about should be. Therefore what I hope you learn is, these are real people who deserve the same amount of respect as we do. If you ever see one of your favorite celebrities out or in a concert, please be respectful and not force them in a hug if they go for a handshake. These people are human as well so please treat them as such.