Jeffree Star & Shane Dawson Brings Color to Fall in New Pallete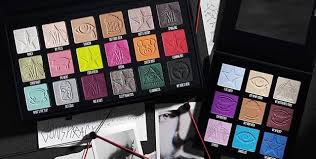 The makeup industry is always ever-changing, yet newer and better things are coming every day. The newest addition to this ever-changing industry is none other than the highly anticipated Shane Dawson X Jeffree Star Palette. This palette has been in the works for a while now and has everyone buzzing; the whole palette idea started back when Shane was filming his first series in the summer of 2018, the series was basically the behind the scenes and how Jefree's life really was behind the camera and they started to talk about business and makeup. Well, one thing led to another, they started talking about a collab, they thought that it was an amazing idea, so that is where the process began. 
The actual palette didn't start being made or planned until January of this year from where the series started showing. In the series, it has shown basically everything we need and want to know about the processes. They have shown us everything from the first board meeting to finding the colors, to the design and rejections of the palette, and everything in between. So far from the six parts we have seen, we have watched the making of this palette; which I may add, it is very cool to see the process work. The palette released on November 1st, and when I said it broke the internet I mean it BROKE the internet. Every website it was being sold on broke, no one expected it to be this big. Shopify (a website the palette was sold on) literally stopped working along with jeffreestarcosmetics.com (Jeffree's website) and Morphe. NO ONE expected it to be this huge, no one expected for the palette to break websites as it did. It took over four hours to get people through the sites just so they could get an item.
Alongside this, it had angered many people, so many people were angry about how poorly it was done and how frustrating it was to go through checkout to, yet again, go back to the shopping page with their cart empty. Shane and Jeffree tried to keep everyone updated and tried to keep everyone calm through the long process. After hours of thousands and thousands and probably even more people trying to get through, they had finally announced that the conspiracy palette had officially sold out. Lots of people ended up not getting the main palette, but some did end up luckily getting the mini-controversy. This mini palette is a small palette with nine shades and had references to different controversies and had shades that were not included in the main palette. Earlier this week they had pre-orders for the next batch for the conspiracy palette which had only 60,000 units. Those units had sold out almost instantly since the palette is still in high demand even a week it's been out.  As of now, the talk about it has died down since most people who wanted it either got it or pre-ordered the next batch of palettes. Reviews have been coming out every second since the palette launched, the reviews are mixed like anything that is to ever come out. Some people are going to not like it and some will, that just how the business world works. Nevertheless, the reviews are mostly positive and lots of people are loving it and being inspired by it. That's really all that matters at the end truly if it inspires you and you love it then that's what truly matters at the end of the day. No matter how many people tell you, you might have wasted your money, as long as you are happy with it and love it then it was a purchase well done