CMWA Expansion Brings Exciting Job Opportunities to Bourbon County
The Central Motor Wheel of America, shortened to the CMWA is making a $112M expansion in Paris, KY, they are planning to add-on 145 new job opportunities for people; 60 jobs extra than they had originally anticipated. Former Gov. Bevin said that "the Bourbon County community will benefit greatly from this substantial job creation as the CMWA increases production to better serve customers." He goes on to say that "we are grateful for the company's commitment to the commonwealth, and for its significant impact within Kentucky's automotive industry."
The factory's leaders plan on expanding an extra 40 acres as they add to the company's aluminum wheel manufacturing facility in Paris. The factory's production will be increased by 50%. Alongside their current 550 workers, the new 145 job openings will include engineering, maintenance, and production. The expansion started in June 2019 and the CMWA executives believe that production is set to begin in July 2021.  CMWA's Executive Vice President, Jeff Birdsong, says that "this project will expand our production capacity to support our customers' increased demand for aluminum wheels in North America." Birdsong continues, saying "our new facility will be more streamlined and equipped with the latest technologies." The technologies that Birdsong is speaking of is the robots and other machinery that is either already in the facility, or new updated versions.
This facility produces steel and aluminum wheels for numerous types of vehicles, and they have numerous workers to help their mass production; including robots and other machines. According to one of the CWMA's sources, it takes up to six people to properly maintain and control one robot and machine. The factory has chosen to expand itself because, not only will it offer the public and new graduates a job opportunity, but it will also increase their production rates. The expansion is still in progress, but once it is completed, they CMWA will pay its new employees thirty dollars an hour once they begin their production process.
While the CMWA continues to work on its expansion, it still is producing the wheels in order to distribute them across the entirety of Bourbon County. Once they have finished building the additional space, they will have twice as much to produce, as well as many other newcomers to help the factory fulfill that process. As graduates begin their life outside of high school, they have the ample opportunity to apply and get a job as one of the Central Motor Wheel of America's skillful and dedicated workers. This addition to the CMWA, while still undergoing preparations, will inevitably cause the community of Paris, Kentucky to grow at substantial rates; new families or businesses may crop up as a result of the new job openings at the factory.
The CMWA is also hosting a job fair, which will be on March 11, 2020, from 9:00 am to 5:00 pm. The fair is open to the public; anyone can attend and gather information on whatever job they should be interested in, according to CMWA Vice President, Jeff Birdsong.
About the Contributor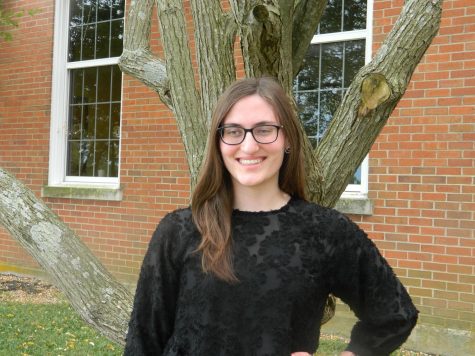 Emma Maynard, Editor
Hi, my name is Emma Maynard. I'm a senior at Bourbon County High School, this is my fourth year of journalism; I am now the editor of the newspaper. I...