Australia In Flames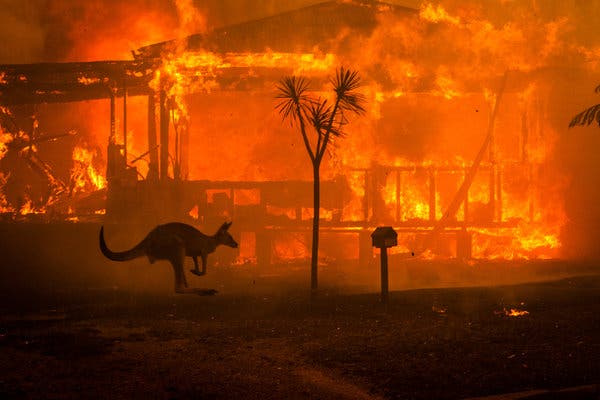 One thing that hasn't been really covered by the news lately are the fires that are currently burning up Australia and although the news has giving Australia some light, this epidemic is very extreme. Currently the fires in Australia have burned 10.7 million hectares of land. Compared to the U.S., this would include dozens of states burning coast to coast and hundreds of our beloved cities including Los Angeles, San Diego, Phoenix etc. .
They are not really sure what started these fires due to natural wildfires happening, and it could have been an arsonist, but no one can say this for sure, due to the fires being so large and spreading very rapidly. This fire all started on November the eleventh in Ravensbourne and at first it burned down Forty nine thousand acres of bush across several days and six houses. These fires still continue till this day and although their not really sure on what started them what made these fires continue is the climate change and global warming that has been going on in Australia for years. This climate change has made the grass and land dry making a fire easily start and continue to become larger as time goes on.
As of now the most tragic thing that has come from these fire are the endangerments to the vegetation and the animals because although Australia is close to normal places, Australia has very unique species and vegetation that do not belong anywhere around the world. Although there have been many people helping Australia's cause and many firefighters have helped including even some from the U.S. , as of recently there have still been nearly five hundred million animals dead in the Australian fires and these fires are still going. Along with this, twenty three people have died in the fires, and including this it has engulfed more then 1,700 homes in South Wales, Victoria and South Australia. All we can do in this tragic situation is donate any money we can for the supplies that they need to stop the fires, help the animals, and even help Australia recover from this tragedy afterwards and hope that they stop soon.
If you would like to donate or learn more about these fires here are a few links to do so. (If you just search "Australian Wildfires Donation" a google donation is also posted)