Town and Village Has Their First Competition!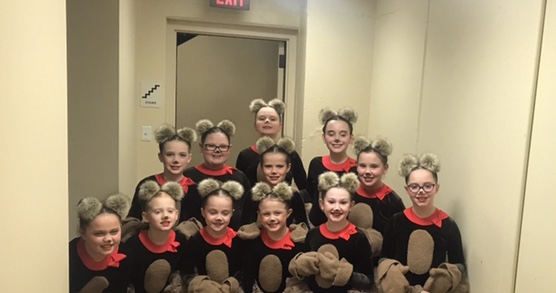 Abigail Bezeau, Staff Reporter
March 3, 2020
As you may know, Town and Village School of Dance has begun their dance competition season. We started out with a bang, having a great time and giving it our all. The first competition was in Columbus Ohio and the competition name was Mark Of Excellence. The competition began on the fourteenth of February and continued until that Sunday. It was a long weekend full of quick changes and good times with our dance team. 
The venue where the competition was being held opened its doors at four in the afternoon on Friday. Solo routines in the junior category were the only routines to compete that day. The competition was fierce as always. Our soloists competed amazingly and one soloist, Olivia White, placed 5th in the division. It was a fantastic way to begin the weekend! Saturday dancers were up as early as six in the morning to prepare for the competition day ahead. Saturday was sectioned off for the younger dancers of the companies. Three of our group routines competed coming in places 6th, 5th and "Rockin Robin" came out on top winning 1st place overall. The girls and boys in the routine were overjoyed with their victories and the teachers were very proud. Sunday was the last day of the competition and was when most of our older dancers competed. Our large group tap routine entitled "Danza De Fuego" placed 3rd overall and our Production routine entitled "The Found Project" also placed third. It was an overall success for the studio. 
The process of finding out our placement at awards is very nerve-racking. After the last routine performs, all the dancers from that section of the competition are called back on the stage. Before they begin telling us our placements they play popular music and we all celebrate being together and just have a good time. After about ten minutes the announcer comes on stage and hypes all the dancers up! We sit anxiously on the stage and wait for our routine to be called with the announcer saying our placement and score. Once a dance from Town and Village is called, we all cheer and scream and support them. It is a really exciting experience and we always can't wait to start the entire process over again at the next competition.