Their Final Season
Their whole lives, kids have been looking forward to their senior year of high school. Children are told: "Your senior year of high school will be one of the best years of your life." The sports events, the senior pranks, getting to finally lead the student section, having all the underclassmen look up to you, senior games, senior superlatives; it is all something you look forward to your whole childhood. All the anticipation and preparation going into this one year is long awaited. For the class of 2020, the year that is supposed to be one of the best of their life is being ripped away due to the Coronavirus. 
For the senior spring athletes, their final year of playing the sport they love is being taken from them. Senior track runners, softball players, baseball players, tennis players, and lacrosse players are all being stripped of the one year they have been preparing for since they were young. Even if they had not been playing the sport as long as others, they're still missing out on their chance to shine. The preparation going into your senior year sport is like none other. Senior athletes give absolutely everything they have into this season, because they know it will be their last. Several kids go to college to play their sport, but they aren't going with the teammates they have grown up and made countless memories with. 
Two senior spring athletes, Molly Cummins, who runs track, and Kaylyn Barnett, who plays softball, talked a little bit about how COVID-19 has affected them. 
Kaylyn Barnett is an electrifying softball player, and the home-run hitting queen. She has had the eyes of several colleges, but she recently committed to Georgetown College to play. When asked about how losing her senior year softball season has affected her, this was her response: "Words cannot describe how heartbroken I am over this. The coronavirus has taken a lot away from my team and I. We were going to set and break records. This was going to be the last season with the girls I started with. I'm losing out on a ton of opportunities. I was top 8 for Miss Kentucky Softball, but now they cannot continue with that because we are not playing. As much as it hurts me, I know God has a plan for everything. I hope that we will be able to get at least a few games in to finish the season."
Molly Cummins, who is a region champion in the 4×2 in track & field, is a runner you can't quite take your eyes off of. Last season, she was a part of the 4×200 relay team along with Jennifer Wilson, Tori Young, and Kylie Hernandez. This team broke the school's record time for the 4×200 that has stood since 1981, after they finished in a time of 1:49.98. The strength and persistence of Molly is hypnotizing. When she was asked how the news of losing her senior season has affected her and her teammates, she responded: "For me, it hurt because it was my last year running with my teammates who ended up becoming some of my closest friends. For my teammates, it hurt them as well because they were predicted to do big things this year. Our coaches predicted all relays to place at least 5th at state." Her advice to underclassmen who have future seasons ahead of them is this: "Do NOT take your season for granted. Work hard every season because at some point you won't get another season with those teammates or coaches." Molly reminisced on her favorite track memory. Her favorite memory is getting 5th in state in the 4×2, and winning region in the 4×2. After the big win, she was crying and her teammates had to calm her down because she had to run the 4×8 right after. 
Your senior year sports season is something you should never take for granted, and unfortunately, these athletes had to learn that the hard way. Never take for granted not only a sports season, but a year in high school. 
Class of 2020, we will play for you. 
About the Writer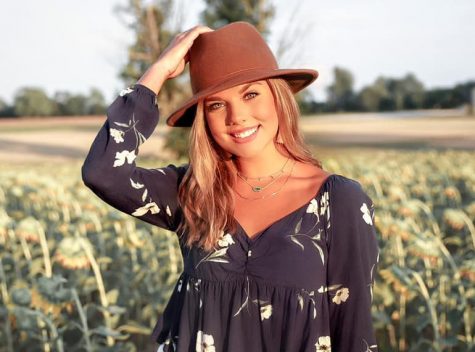 Hannah Hamelback, Editor
Hi! My name is Hannah Hamelback, and I am a senior this year. I am a third year Editor for the newspaper, and I'm so excited to finish off my senior year...