A Recap of the 2021 Video Music Awards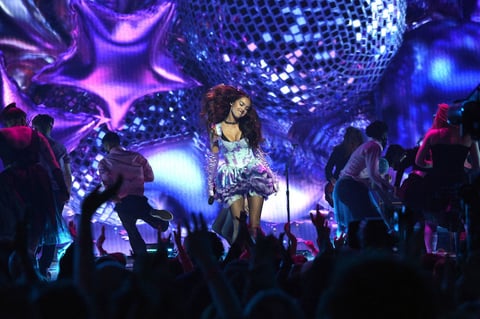 On September 12, 2021, The MTV Video Music Awards which is famously known as the 'VMA's" was hosted by rising artist Doja Cat, the event was held at the Barclays Center, New York, NY. This event was held the night before the other biggest event in social media, the Met Gala. Many famous celebrities attended this event. From the nominees, the winners, and even the performers such as, Justin Bieber, Olivia Rodrigo, Camila Cabello, Shawn Mendes, Lil Nas X, Machine Gun Kelly, Ed Sheeran, Normani, Kacey Musgraves, Chlöe Bailey (of sister duo ChloexHalle), and Twenty One Pilots. Doja Cat also performed her hit single "Kiss Me More" at the awards. She told People magazine that this performance would be something her fans have never seen before and that they would be very excited for what was to come. 
The majority of these artists were nominated for numerous awards this year. The award that tends to be most coveted is "Artist of the Year". A lot of fans showed negative responses when Justin Bieber "stole" the win from other musicians. A lot of talented singers were also nominated for this award such as, Doja Cat, Ariana Grande, Megan Thee Stallion, Taylor Swift, and new coming artist Olivia Rodrigo. On the topic of Olivia Rodrigo, she also won two great awards such as "push performance" and "new artist". She really brought competition when she released her debut album "Sour" in May of this year. So far, she was able to sell 155,000 thousand copies and around 1 billion streams on Spotify alongside her other countless hits this year. Another artist who made her solo performance this year since she left 5th Harmony in 2018 was Normani. Lastly, Lil Nas X who recently released his debut album "Montero" won three awards by the end of the night. These awards included "video effects", "video", and "direction". A lot of talented people were nominated for these awards but the people who won also worked hard for the award.