BCHS Homecoming Festivities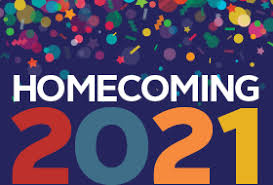 It's the time of the year where fall is starting to settle in and it's time for the annual celebration of homecoming. This year's homecoming will be on October 8th. Every year we do festivities to celebrate the homecoming game. This year BCHS is doing a spirit week, a pep rally, and a homecoming court. It's an uplifting start to the fall season and have fun. 
Our pep club put a lot of thought into making a 2021 spirit week for us. Spirit week is the week of the homecoming game and each day you dress as something different. This year there's Movie Star Monday (10/4), Type Tuesday (10/5), Wig Wednesday (10/6), Throwback Thursday (10/7), and Class Spirit Friday (10/8). Movie Star Monday is where you dress up as your favorite movie character (not celebrity). You can find a recognizable outfit they wear and recreate it or you can use makeup to make you look like them. On Type Tuesday you dress up as whatever your "type" is. Some examples are your partner, a football player, someone with brown hair, someone with blonde hair, or whatever you see as your "type". On Wig Wednesday you get a wig and wear it to school. You can get a wig from Amazon, Walmart, or Party City. On Throwback Thursday you dress up as the 90s, 80s, 70s, etc. For example, you can use rollers to give yourself the 90s blowout look or you can tease your hair to give yourself the 80s big hair look. You could wear bell bottoms, brightly colored, or patterned clothes for a 70s outfit. Class Spirit Friday is where you dress up in the color assigned to your class. Freshmen are gold, sophomores are white, juniors are maroon, and seniors are black. 
There's also a pep rally where we all go to the football field and get hyped up for the game later that day. During the pep rally they recognize the football team players. Also, the band plays music and the cheerleaders/dancers are there as well. It's a fun thing to do to get our school spirit homecoming-ready. Make sure you wear your grade colors on October 8th for the pep rally!
This year COVID-19 has prevented BCHS from having a homecoming dance. However, there's still the homecoming court. The freshman, sophomore, and junior court is decided and each grade has a boy and girl. These are the Homecoming Representatives of each grade: The freshman representatives are James Laing and Emma Hogan. The sophomore representatives are James Mulcahy and Linzi Bromagen. The junior representatives are CamRon Goodwin and Zaida Villanueva. The senior representatives are Addison Hensley, Brenda Cruz, Diego Naranjo Olivas, Dylan Ritchie, Gabriel Ishmael, Elizabeth Toohey, Thomas Greenlee, Mckanzie McGee, Makayla Pittman, and Alberto Perez. The seniors have many representatives that were nominated and the second vote decided who was our BCHS 2021 Homecoming King and Queen. They will be announced on the day of the homecoming game.  The homecoming court will dress up and be announced at the game on Friday, October 8th at half time.
Although COVID-19 has caused some changes, we're going to have a great spirit week and game. There's lots of fun things to do this week, thanks to the efforts of BCHS.  Make sure you appreciate our executive council of the pep club and Ms. Tanner for putting all of this together. Make sure you dress up October 4th-8th for spirit week and keep your school spirit up!