Watch out for these eye-worthy eclipses, moon, and meteor showers of 2022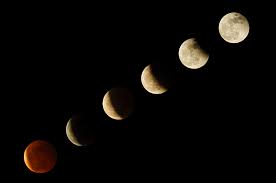 In the year 2022, scientists have confirmed that there will be the most moons, meteor showers, and eclipses. Though they do not know why, it's been stated that they will all be visible and have made certain diagrams (seen below) to show where the best place to see them will be. 
The first solar eclipse will be in the Southern Hemisphere which means it will be visible in South America, a third of Africa, Australia, Antarctica, and some Asian islands. This is the 66th eclipse from a certain group called the Saros series, and hasn't occurred since 1950. 
The second eclipse is a full lunar eclipse occurring in the time during the astrological sign Libra's birthday (September 23 to October 23). The diameter of the moon is thought to be much larger than others. There is much talk about this certain eclipse because of how big it has been said to be, and has been named the Perigean Full Moon by the media. 
On October 25th, the second solar eclipse will be visible in the Northern Hemisphere, which means that most of Europe, the Middle East, Central Asia, and northeastern Africa will be able to see it. This eclipse, which will be the 55th eclipse of the Saros series 124 (another old series which was last seen in 1986). The Saros series 124 on that day was a very unusual eclipse because of its short path just off the west coast of Iceland. 
The final eclipse of the year is planned to be a total eclipse being visible for North Americans. Since the moon is five days shy of apogee (November  14) it will be 7% smaller than it will be in May's eclipse. Astronomers and scientists say that the moon's brightness will be easy to discover using the stars and a pair of binoculars. 
There will be other eclipses this year, but not as visible. All three above can be very easy to see, but make sure to stay safe, and wear protective glasses.