Dancing in Wonderland: The Disco Spin on Alice, The Wonderland Remix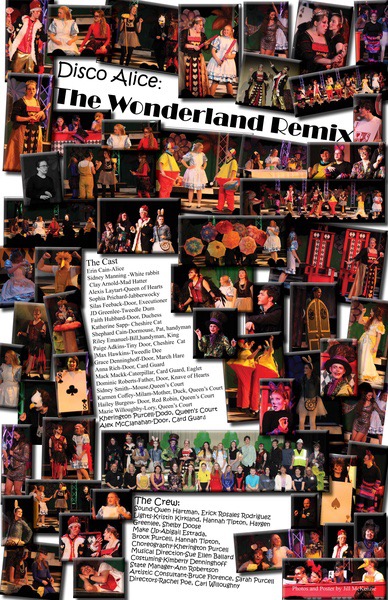 As the spring season rolls around, Bourbon County High School puts on its yearly musical. Directors Poe and Carl Willoughby decided that this year, the theme would be "Disco Alice: The Wonderland Remix." 
The synopsis follows 12-year-old Alice as she escapes a garden party, impulsively following a stressed-out White Rabbit down a rabbit hole. She enters an enchanted realm full of loveable characters and maddening misadventures, all ruled by one very crabby Queen of Hearts. With catchy Disco era/1970s music and a magical design scheme, Lewis Caroll's classic coming-of-age tale is taken to a whole new level of fantasy and fun. 
The directors hosted auditions in the week of December 13 through 17, right before Christmas break. The casting call was released on Christmas Eve and rehearsals began on the Monday students came back to school (January 3, 2022). The musical has a variety of iconic classic disco songs which include "Star," "Do the Hustle," "Vertigo," "Shake Your Groove Thing," "Will Survive," "Boogie Wonderland," "Ladies Night," "Funky Town," "Knock on Wood," "Respect," "Stayin' Alive," and "You Should Be Dancing."
There are 10 chapters in the musical with a short intermission after chapter 5. The first chapter introduces the main character Alice and sets the theme for the entire production. The production included many different sources of lighting and set designs. The costumes were executed to fit the theme of the 70s. The sets were made to accurately fit the cartoonish vibes it was trying to convey just as the original Disney movie did. Many forms of entertainment were incorporated to create a charismatic atmosphere. 
The show received good ratings from audiences of all ages. Parents and children who came to see it had lots of fun watching the enjoyable cast perform. Older generations seemed to have lots of fun with the theme of the show. Overall, Disco Alice was a success and the spring high school musical was a hit in the community.