Selena Quintanilla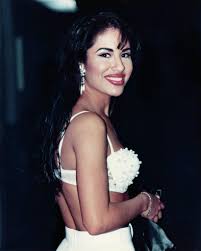 Selena Quintanilla was born on April 16, 1971, in Lake Jackson, Texas. The state's proximity to Mexico gave way to a distinct Mexican-American musical style known as Tejano, which Selena would embrace from an early age. Selena's father, Abraham, who was a former musician, taught Selena and her two siblings, Abraham and Suzette, everything he knew.
They formed the band Selena y Los Dinos, and music quickly became the family business. Before long, the band became a popular local act at parties and events around Corpus Christi, where the family had settled. When she was just 15, Selena Quintanilla won female vocalist of the year at the Tejano Music Awards. A few years later, the young star produced her first self-titled album, Selena, in 1989.
As time went on, she became an international sensation, breaking into the Latin American music industry with hits like "Como La Flor" and "Amor Prohibido." Selena's success was all the more impressive given the singer's initial lack of proficiency in Spanish.
According to Chris Perez, the band's guitarist, whom Selena would later marry, she was the first in the band to become fluent in the language. It was important for her to not only show pride in her Latin roots but also to be able to connect with her Spanish-speaking fans. In 1994, Selena achieved the unimaginable; her concert album, Selena Live!, won a Grammy for best Mexican-American album at the 36th Grammy Awards.
By age 23, Selena was living the dream. Unfortunately, this dream would soon turn into a nightmare. Yolanda Saldívar first became acquainted with Selena as the president of Selena's fan club. When she wasn't busy with fan club matters, Saldívar also worked as a nurse in the beginning.
However, she ultimately quit her other job to officially manage the fan club full-time. Before long, the two grew close, and Selena and her family eventually trusted Saldívar enough to promote her to be the manager of the singer's boutiques called Selena Etc. Saldívar even claimed that Selena, who was 11 years her junior, called her "Mom." But there was a dark underbelly to their seemingly tight relationship.
Those who knew Saldívar say that her interest in Selena was borderline obsessive. One woman who shared an apartment with her claimed that Saldívar had a shrine dedicated to her. Saldívar's coworkers also alleged that Selena's "number one fan" showed signs of disturbing behavior throughout their relationship.
"She was very vindictive. She was very possessive of Selena," said Martin Gomez, a fashion designer for Selena's boutiques, who shared an office with Yolanda Saldívar. "She'd get angry if you crossed her. She would play so many mind games, say people who said things they hadn't said." He even claimed that he found finished pieces of clothing he had worked on for the boutiques with the gems mysteriously ripped out.
Ultimately, Saldívar's "unhinged" behavior led to Gomez's resignation from the company. And it wouldn't be long before Selena herself began to grow wary of Saldívar. Things started to go downhill when Selena's family suspected that Yolanda was stealing money from them. Then, Selena's father began to receive several complaints from fans who said they never received the merchandise that they purchased from the fan club.
On March 9, 1995, the family confronted Saldívar about their issues, and that's when the once-close relationship began to sour. On March 13, Yolanda Saldívar enlisted the help of a lawyer to draft her resignation letter, even though she had already been fired. She also purchased a .38-caliber revolver, which she later said was to protect herself from Abraham. Records showed that Saldívar returned the revolver to the store just days later, only to repurchase the gun on March 26.
Based on Saldívar's account, Selena didn't completely cut ties with her after the fallout. But an employee at Selena's boutique said the star intended to officially fire Saldívar after she got all of her last remaining financial documents back from her.
On March 30, Yolanda Saldívar called Selena and told her to come to her room at the Day Inn alone to pick up the documents. Selena came with Perez, who waited outside while the two talked. It was an uneventful meeting, but nobody knew it would be the last day before Selena's murder.
On March 31, Selena went alone to visit Saldívar again at the Days Inn to retrieve the rest of the documents. At some point during the two meetings, Saldívar dropped a bombshell: she had been sexually assaulted on a recent trip to Mexico. So that morning, Selena took Saldívar to the hospital.
However, the hospital would not perform a full exam on Saldívar since she was not a resident of Corpus Christi and her alleged incident happened outside of the city's jurisdiction. The nurse who received the two later said that Selena appeared frustrated when Saldívar gave inconsistent information about her alleged assault. The two eventually left the hospital and went back to the motel after finding out about Saldívar lying about this assault.
When they got back to Saldívar's room, the two women began to argue. A maintenance worker at the Days Inn said she heard a loud boom that sounded "like a flat tire" before she saw a young woman in a jogging suit running and screaming.
"I saw another woman chasing her. She had a gun," recalled Trinidad Espinoza. Espinoza said the other woman stopped before she reached the lobby and then went back to her room. Meanwhile, Selena ran inside the lobby to get help from staff members. She slowly collapsed on the floor in a pool of blood from the bullet wound in her back. Then, Selena used her last words to identify the name of her killer: "Yolanda Saldívar in Room 158."
"She looked up at me," said Ruben Deleon, the motel's sales director. "She told me and her eyes rolled back." Doctors later said that she was already brain dead by the time she reached the hospital.
Selena Quintanilla died a few weeks shy of her 24th birthday. After Selena's murder, Yolanda Saldívar threatened to kill herself, which ended up leading to a nine-hour standoff with police.
According to Assistant Police Chief Ken A. Bung, Saldívar was "expressing remorse" for her actions and calling her family multiple times. Ultimately, Yolanda was arrested and later sentenced to life in prison for the murder of Selena, with no possibility of parole until 2025. To this day, she maintains that Selena's death was an accident.