The Eastern Kentucky Flood has Ruined Livelihoods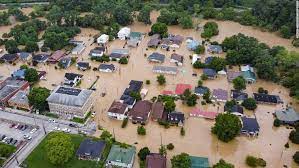 On July 28th, 2022, a heavy rainfall triggered a flash flood warning for numerous counties in Eastern Kentucky. This rainfall lasted several days which resulted in the following counties being flooded: Breathitt, Floyd, Perry, Knott, Leslie, Pike, and Magoffin. Some residents became trapped within their homes due to the high flood waters which reached up to 14.7 feet. On August 18th, Governor Andy Beshear gave an update on the information of the flood fatalities and damage. So far thirty-nine deaths have been confirmed. There have been eight reported deaths in Breathitt County, two in Clay County, nineteen in Knott County, three in Letcher County, and seven in Perry County. However, two people remain missing, Vanessa Baker — age sixty, and Nancy Cundiff — age twenty-nine, both from Breathitt County. 
As of August 18th, a total of 455 people are being housed in shelters which include state parks, churches, schools, and community centers. When the flood first hit, households from across the area lost electricity, however, it has been reported that 95% of power outages have been repaired. There was a total of 27,000 power outages on July 29th. As of now, there are only seventy-four remaining outages. Not only has the Eastern counties' power been affected by the rainfall and flood, but so has their water. While, by July 28th, there were a total of 40,000 service connections without water, it has gone down since. However, 2,634 connections still remain without water. 
FEMA, the Federal Emergency Management Agency, has taken to responding to the flood crisis in Eastern Kentucky. It took many days for FEMA to approve several counties for Individual Assistance. However, there are twelve Eastern Kentucky counties that have officially been approved by FEMA. These counties include Breathitt, Clay, Floyd, Knott, Leslie, Letcher, Owsley, Perry, and Pike County. As of now, more than $42 million in grants have been approved by the FEMA Individuals and Households Program for 5,267 households. $32.4 million of this goes into Housing Assistance and $8 million goes into Other Needs Assistance, which goes to applicants for immediate needs which include: medical and dental expenses, moving and storage, funeral costs, and childcare. 
Brooklynn Sheffield, Bourbon County High School student, was interviewed on her opinions and thoughts about the damage done by the Eastern Kentucky flood. When asked what she has been doing to help around with the flood she responded, "There is a lot being done to help with the damage … people donating food, water, and shelters being opened for them. I have been helping clean around my uncle's house where the water had been almost up to the third story." She went on to say, "My hometown is in Breathitt County, I feel bad that it has happened, and I wish it didn't. People lost their lives and homes; some are still missing. The people that were there are or were probably terrified." 
Haylie Harney, a Bourbon County High School student, who has family who live down in the eastern counties, was also interviewed on the topic. When asked how this flood has affected the people living in Eastern Kentucky she stated, "It took my aunt's home, and has probably taken a lot of people's homes and property." She elaborated, "My father and I went down and gave some people supplies and food that we know. It upsets me that this has happened. I've seen people close to me get affected by this flood and seen people having to leave their homes behind." 
The Eastern Kentucky Flood caused catastrophic damage to houses, buildings, and lives. People have had to move and live in provided shelters due to the damage done to their homes. There is a lack of drinkable water, food, and shelter for the people living in Eastern Kentucky. Several people from all over Kentucky have gone down to donate anything that they can in order to help those affected by the flood.