Senior Spotlight: Cam Goodwin
Being able to play tight end, running back, and outside linebacker Cam Goodwin embodies athleticism, with accolades such as being able to run a 4.6 40 yard dash, and having a 36 inch vertical. Always being a standout starter Cam is now entering his senior year, so there were a few questions that needed to be asked.
Cam has already committed to play college ball at Kentucky Wesleyan. The Wesleyan football team is in NCAA division 2. When Cam was asked why he chose to commit to Wesleyan he said, "I really like the place, I like the atmosphere and the coaches. It brought back home memories." When asked what excites him most about playing for Wesleyan he responded "I'm ready to see how it is at the next level, it's something I've been dreaming about since I was a kid. Freshman year I started playing football again and I really didn't think I was going to go anywhere, then I got my offer and now I can't wait." Not many can wait to see this young star shine at the next level, when asked what he brings to a college level he responded, "Aggression." Cam plays physically from whistle to whistle and always brings the extra heat that the team needs.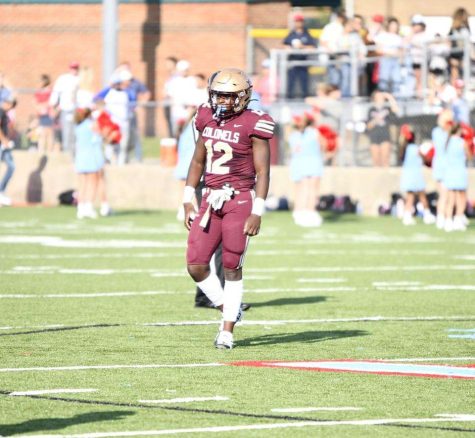 Cam starting against D5 opponent West Jessamine
Cam is already a superstar, but he hasn't even begun to reach the top of his game. When asked how he thinks he can improve his game he responded, "Improve by getting less personal fouls, and becoming a better team leader by expressing my thoughts more. Also by having fun with my brothers." Cam has a commitment to any team he plays for. 
Cam has a bright future in the sport of football and maybe one day you will see him in the spotlight of the NFL draft.