Coach David Jones: The Definition of an Athlete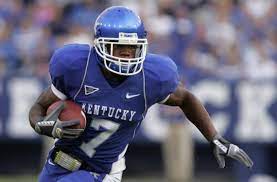 Coach David Jones has been the the head coach at Bourbon County since early 2019;  before that he was the head coach at Phelps High School, and assistant coaches at Belfry High School and the University of Pikeville. Before that Coach Jones was an elite athlete making it all the way to the NFL being signed as an undrafted free agent to the Baltimore Ravens in 2008. Coach Jones' career as a football player was truly remarkable, now we ask him what the path of an athlete is really like. 
Boasting an impressive high school career at Belfry High School, helping bring the school two state championships in 2003 and 2004. "I had a great high school career, I was a two time state champ in football and a two time state champ in track," he said. "I scored the game winning touchdown in the state championship game, and it was the first state championship we ever had at our high school."
After his high school career he was recruited by Kentucky "It was a long process; I had about every college in the nation besides the west coast teams so it was pretty busy. I had to sacrifice a lot; I didn't have summers at all; I would go on my visits during the summers because we were doing a lot during the season on the weekends." After finally signing for the Wildcats, there was a very big transition from high school to college that Coach Jones had to make. "It was very different; I got homesick; I was in a different element; after about the first week and a half it all came together and the rest is history, I had a great time there." Playing for the school from 2005 to 2008 Jones was a stud playing both wide receiver and defensive back for the university. "We all grew up watching ESPN, but now I was playing on ESPN. Also, the brotherhood from college, to this day I still have brothers that I talk to from my college football team. So, the most important part of it was the brotherhood of it.."
After college Coach Jones had dreams of playing in the NFL, the first step was balling out at his pro day, getting the fastest 40 time out of his fellow Kentucky classmen, running a 4.34. "On my pro day I had one of the fastest times; I already knew I had opportunities; I was projected to go anywhere from the third round to the seventh round. It was a great experience. I got to talk to 18 teams." Later that year after the NFL draft, Coach Jones was signed by the Baltimore Ravens. He had made it to the NFL a dream of many young men across the nation yet Coach Jones knew his journey wasn't over yet, "Honestly, it didn't really feel like it. I was one that always used football to get an education, 'cause where I'm from I knew we couldn't afford it. Whenever I got the opportunity to go to the NFL, I was blessed, overly blessed, but it wasn't a sign of completion. There were a lot of things left for me to do on this earth and coaching is one of them. Me as a coach right now is a completion of my football career."
Coach Jones made it all the way to the NFL, which is a dream of so many that most don't end up completing yet once he made it there he knew his time in the sport of football wasn't over. Now, he devotes his life into raising the next generation of football players, teaching them not only how to play the sport of football but also how to become better people. Coach Jones is an elite athlete who has improved the lives of many, and will continue too for years to come.