Heavy Loss for the Equestrian Industry
Queen Elizabeth II's adoration for animals, especially speaking of the equine and corgi collection she had over the years, was no secret. Over her seventy-year reign, the Queen owned thirty corgis. Her dire love for animals started from her early childhood, when her father King George VI purchased a corgi for the (at the time) Princess' seventh birthday. Dookie, the lucky, royal corgi of Buckingham Palace was the start of the Queen's ongoing love for the breed. 
The monarch owned more than one hundred horses in her lifetime as well. The fondness for equestrian riding, and breeding led to her many trips to Claiborne Farm, a farm in Kentucky that has bred and raised numerous derby-winner horses. One of the many famous trips she made to Kentucky was in 1984. 
She originally visited to see the stallion, Round Table, to confirm he was still alive. Citizens from around the county felt the visit "was quite an honor" and were very excited to hear the news of Queen Elizabeth flying to Kentucky. Photographs were taken, showing how comfortable the Queen was around the loving animal, and that made citizens overjoyed by the common interest they had. 
The late Gus Koch, farm manager at the time, had the chance to meet Queen Elizabeth and share his experience before his passing last year. He exclaimed the Queen was welcoming and was surprised by how comfortable he was to have a "normal" conversation with her. Other people who were present that day were Seth Hancock (owner of Claiborne Farm), Dell Hancock, and numerous workers on the farm.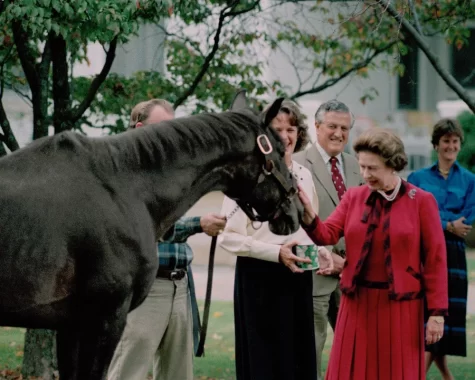 Between 1984 and 2007, the Queen visited the Bluegrass five times. Sightseeing Claiborne, Lane's End, and even the Kentucky Derby (2007), her love for horses and the equine industry was in no doubt, big and proud. In honor of her visit back in '84, she presented the trophy 'Queen Elizabeth II Challenge Cup' at Keeneland. At the time it was a dirt track, "but now is the premiere turf race in America for three-year-old fillies, every October", stated Dr. Murray West (resident of Paris, Ky) in an interview with the Bourbon County Citizen." He went on to discuss how the racetrack was completely flipped thanks to the Queen. 
The times Queen Elizabeth II visited Kentucky will always be remembered as honorable, and worth remembrance. Though part of the county directly stated they were not royalists, how much the Queen made an impact on the state surprised them. 
She is survived (speaking in terms of pets) by her beloved pony, Emma and four dogs: two corgis, one cocker spaniel, and dorgi. The royal family will continue taking care of the famous pets, and HER legacy of breeding & raising horses.