BCHS Marching Band Placed First In State
The Bourbon County marching band won first place in the state when they performed on Saturday night, October 29th at EKU. They started working on their performance last spring and after a long process and hard work, they got it perfect. Some people might not know this, but most people start the band in sixth grade, so most have played for many years.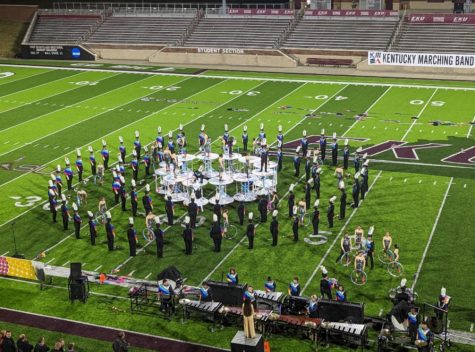 In an interview with Mr. Stone, the band director for Bourbon County High, we asked him how he felt when they won first place. "I am super proud of them, it is a really tough class, we are in one of the toughest classes in Kentucky for marching band. We took down some really awesome bands. Anderson County won state last year and they were second place this year, but I was really proud, this was a really difficult show. One of the things I really love about the show is that the seniors helped me come up with it. I just really didn't know what I wanted to do this year, so I looked at them and I said "well it's going to be your senior year, what do you want the show to be about?" so last spring we started working on that and then it kind of came together over a long long process". We asked what the theme was that the seniors helped come up with. "It's called "full circle" and basically it's just about how you are born perfect and you go through life kind of figuring out who you are and what you are passionate about and really pushing yourself to get out there and just getting out of your comfort zone. Then at the end just kind of realizing that you know you are full already and that you just have to be yourself." We made a comment saying "that has a deep meaning". Mr. Stone said, "Yeah we always try to have some sort of deeper meaning behind our shows. Some bands just go out and they just do something that is fun for the crowd to watch and I want the crowd to enjoy the show too, but if we are going to spend this much time on it, I want to be able to teach something with a message for the show, not just put on a costume and go.". After so much hard work and dedication, they got what they deserved and won first place. Congratulations BCHS marching band!