Are K-pop Stars BTS Prepared to Enlist in the Military?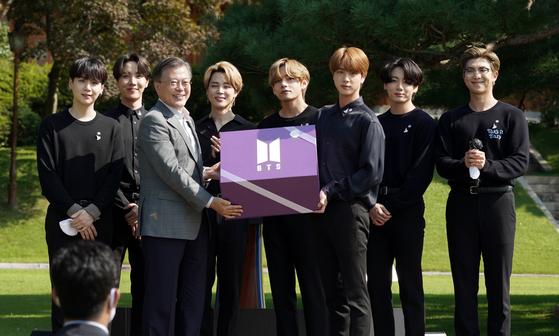 On October 17th, BigHit Music or Hybe labels, the company of the global KPOP boy group BTS, announced that BTS would be enlisting in the military. In South Korea, military enlistment is mandatory for men and they have to fulfill their duty for at least 2 years. Women can join the military, but it is not mandatory for them and men can stay in the military for more than 2 years as a career. The requirements to be in the military are being 18 to 30 years old. The reason for mandatory military service is because of the conflict between North Korea.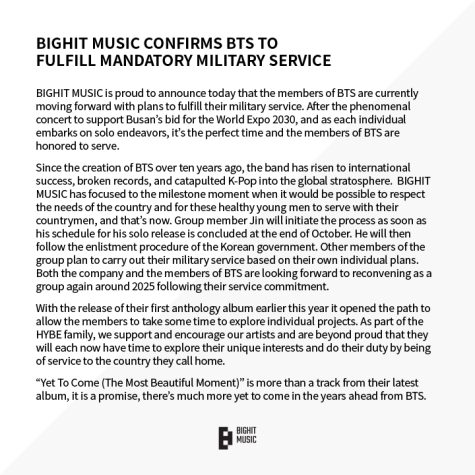 On the other hand, due to BTS's popularity and the South Korean economy, these plans were delayed. According to Hyundai research, the group makes over 3.5 billion annually for South Korea. This debate has been going on for a couple of years on how BTS should even be obligated to enroll in the military due to the economic and cultural influence of the big bank they make, then bringing back to South Korea. South Korea has an exception for people who serve their country in some other way by being an Olympian, athlete, or a prestigious classical musician. BTS can fall into this category of result that they sacrifice countless hours into putting their music and performance. However, the seven members were chosen to fulfill military duty regardless of what the government decided. 
Now that BTS members have decided to go to the military they decide to go individually instead of as a group, which is better because Army (BTS fanbase name) think it's better since they can come back as a group. This also means the members can focus on their solo careers. They confirmed the dates for the members, first to go is Jin, 29, then Yoongi(Suga), 28,  Hoseok (Jhope), 27,  Namjoon(RM), 26, Jimin, 26, Taehyung(V), 26, and finally Jungkook, 24. They won't reunite until 2025 as a group, even Army's counting down their calendars.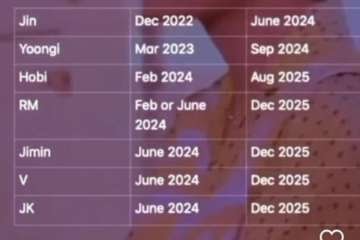 Jin, the eldest member of the group, will be leaving this year. Devastating right? The hashtag "WE LOVE YOU BTS" was trending on Twitter as Army show its support for BTS. Jin released a song called "Astronaut" on October 28th and performed it the next day. This song was very meaningful that the army should move on, while he is away in the military and that he will return soon to his family(ARMY & BTS) Many Army have cried about this and took it to Twitter one user said, "It what you guys mean to trust you, isn't." Army's showed their support on social media and said they will wait for them while they are gone. The coming days and months will be quite different for BTS and Army after the concert that Bangtan Sonyeondan – these seven bulletproof boy scouts – will always be in our hearts and we will wait for them no matter what.