This Year's New at the Bourbon County Schools
As the year comes to an end, we want to recognize educators and staff who went above and beyond for their school.
First, at the Bourbon County Preschool Head Start during October's Parent Workshop for the Preschool, the building emphasized the importance of First Aid and CPR.  Deanna Berry, Bourbon County Schools Health Coordinator, taught the attending parents basic First Aid skills and provided them with a simple, working knowledge of CPR. These basic skills are useful in emergency situations and may just save someone's life. 
  Moreover, Bourbon County Preschool Head Start's Amanda Justus, Ashley Hamilton, and Kate Cotter earned their Child Development Associate (CDA) credential during the month of November. All of the Bourbon County Preschool Head Start classroom staff have or are working towards their credentials. This certificate is the most widely recognized certificate in Early Childhood Education (ECE), and it is a key stepping stone on the path of career advancement in ECE. The CDA is based on a core set of competency standards that guide Early Childhood professionals toward becoming qualified educators of young children. The Council works to ensure that the nationally transferable CDA is a credible and valid credential, recognized by the profession as a vital part of professional development.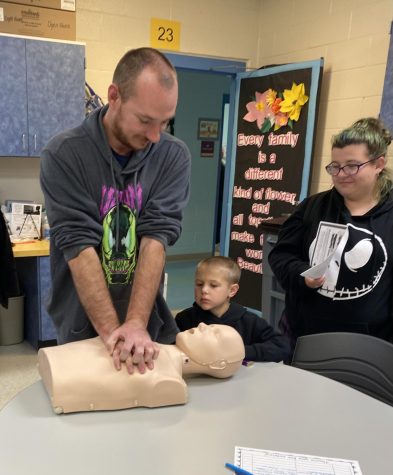 Staff who have earned their CDA have knowledge of how to put the CDA Competency Standards into practice and an understanding of why those standards help children move with success from one developmental stage to another. Put simply, CDAs know how to nurture the emotional, physical, intellectual, and social development of children, helping further required development in young children.
Lastly, BCMS Staff wore pink to bring awareness to Breast Cancer Awareness Month during October! The American Cancer Society states 1 in 3 women who are diagnosed with cancer have breast cancer. With 43,250 of these diagnosed women dying in the previous year, breast cancer is the second most common form of cancer in women just falling behind skin cancer. Almost everyone knows a person who has had breast cancer. 1 in 8 women in the United States will be diagnosed with breast cancer, and awareness plus screening could save someone's life.