Kpop singer IU and Actor Lee Jong-suk confirm relationship?
The story of IU and Lee Jongsuk's relationship is like a romantic Korean drama. Their relationship runs from the early days of friendly coworkers to eventually lovers. As photographs began to stun the internet of them allegedly being seen together on their trips to Japan, the two Korean stars have always held their love life very private.
The two have been friends since 2012, as the host of the K-music program Inkigayo. The singer-actress IU gave ideas for what outfits they may wear at the program, and Jongsuk says he was "a little bit irritated" by her. According to the report, Jong-suk and IU grew fond of one another while filming the music show; Jongsuk claimed IU is one of his dearest friends in the entertainment business.
Jongsuk shows that they are good friends by attending IU'S concert "IU Palette Tour Concert 2017 tour" in Seoul in 2017. Later, the actor Jongsuk was seen recording and uploading at a concert for the 1theK's YouTube account. When IU published her fifth studio album, "Lilac," the actor showed his support, shown in his Instagram story in March 2021. The image displayed Jongsuk humming the song "My sea" on the Korean music service Melon. In 2022, he also claimed that he often listens to IU's "Winter Sleep" and "Forever and Ever," stating that he enjoys music with related lyrics. Those two songs are lyrical and wonderful to listen to when I want to feel sad. I appreciate songs with good lyrics that I can identify with. When I listen to them, I feel like crying," he said. Fans caught Jong-suk wearing a bucket hat at one of IU's concerts in 2022.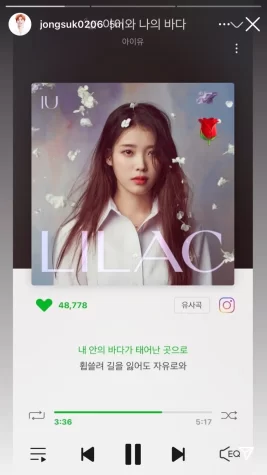 In December, during his victory speech at the 2022 MBC Drama Awards, Jongsuk thanked a special person. "I've liked for a long time," and "someone special helped me discover a good direction and think positive ideas," said  Jongsuk after he completed his military service. "I want to tell that person I'm grateful to them for always being so admirable, that I've liked them a lot for a very long time, and that I respect and like them immensely," he later said. However, when his agency answered that he was thanking the person, no romantic rumors were claimed.
Dispatch alleged that IU and Jongsuk spent the holidays in Japan, yet they officially declared their relationship from December 2022 to January 2023 and were dating for a while. When both their agencies approved their relationship in articles placed on their fans' page's, the celebrity duo expressed their respect to their fans. IU called Jongsuk "sweet and reliable" and said that he has been Jongsuk's supporter for a very long time. Jongsuk, meanwhile, stated that IU "is always taking up a corner of my heart." Since they ought to have a romantic relationship but very few fans would like to see their idol dating someone, this made people happy and encouraged the couple, who are adults and free to pursue their interests.