Damar Hamlin's Recovery After Collapsing On The Field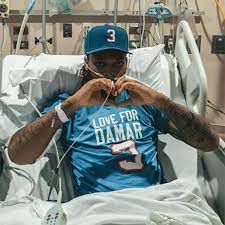 The NFL is an American football organization dating back to 1920 when it was first founded. The latest season started on September 8, 2022, and is scheduled to end on January 8, 2023. One of the latest games was between the Buffalo Bills and the Cincinnati Bengals on January 2, 2023. During the first quarter of the game Buffalo Bills player Damar Hamlin collapsed onto the floor after being tackled by one of the opposing players. Hamlin was treated on the field for about 10 minutes and received CPR until an ambulance arrived. The football player is currently being treated at the University of Cincinnati Medical Center in the intensive care unit. 
According to his uncle, Hamlin was resuscitated a second time at the hospital and is in critical condition, sedated, and on a ventilator. The ventilator helps relieve the strain on his damaged lungs. Hamlin was also flipped on his stomach to help with the blood in his lungs. Many athletes have shown their love and support for Hamlin as well as applauding the NFL's decision to postpone the game since Hamlin's health is more important than the game's outcome. Another act of support the NFL teams showed Hamlin was on late Tuesday night when they changed all 32 of their social media profile pictures to a picture showing Hamlin's #3 jersey with a text saying "Pray for Damar". 
Fans have also donated more than 6 million to a fundraiser Hamlin had previously started to buy gifts for the children of his hometown for Christmas. Hamlin's family also thanked the staff that's treating him with exceptional care as well as put out a statement saying "On behalf of our family, we want to express our sincere gratitude for the love and support shown to Damar during this challenging time. We are deeply moved by the prayers, kind words, and donations from fans around the country," The latest update on Hamlin is that he has gotten his breathing tube removed and can be with his family, team, and medical staff.