Ginny and Georgia Season 2: What Can You Expect?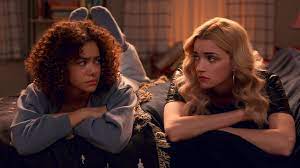 Ginny and Georgia is a TV show on Netflix that was released in early 2021. After the positive feedback it received, fans demanded a second season. After over a year of waiting, season two was officially released on January 5, 2023. Here is everything you need to know about the newest installment of the comedy/drama show. 
All Cast members from season one are returning in season two. There is a new character that has been added–Aaron Ashmore is going to play Gil Timmins, who is Georgia's ex-boyfriend and Austin's biological father. Season one ended with Ginny running away from home with Austin after discovering that her mother is a criminal.
In December 2022, Netflix released an official synopsis for the following season: "How do you live with the knowledge that your mother is a murderer?" Now, Ginny knows that her stepdad did die from natural causes. Ginny now deals with the fact that not only did her mother kill, she killed for Ginny's protection. Georgia thinks that the past is the past, what is done is done, and leaves it in the past, because she's got a wedding to plan. The funny thing about Georgia's past is it never stays buried for long.
Ginny and Georgia Season 1 Recap
Here is a recap from season one. Ginny, Georgia, and Austin moved to Wellsbury, Massachusetts for a fresh start after the sudden death of their stepdad (Georgia's Husband). Ginny is not pleased with moving to Wellsbury and starting her life all over again, she's been moving her whole life when something tragic happens or when her mother finds a new boyfriend. She later meets a girl, Maxine Baker, their neighbor and they become friends quickly. She has never had any friends so this is all new and good for her. Ginny gets close to Maxine's brother, Marcus Baker, and develops feelings for each other while she is dating one of Max's friends, Hunter. 
Georgia gets a job in the mayor's office and while working there, she falls for the mayor. They get along so well that they get engaged very quickly. During her relationship with the mayor, she becomes friends with a guy named Joe, a local cafe owner. Georgia and Joe met 15 years before at the same rest stop when they were teenagers. Ginny and Georgia's relationship becomes more strained now after finding out from a private investigator that Georgia killed her stepdad. With this info, Ginny might not know who she thought her mother was. While Georgia is out celebrating the mayor's re-election, Austin and Ginny run away after discovering the letters from his father were fake. Georgia kept the letters and forged replies to Austin. Season one ends with Ginny and Georgia running away from home on her way to her dad's house in Boston.
Ginny and Georgia Season 2 Teaser Reveal
The first look at the new episodes teases flashbacks to how Georgia initially reacts to her kids absences. Georgia cares about her kids. She will do anything for her kids, anything to protect them like no one was there to protect her. She wants to attempt to save her relationship with Ginny because their relationship has not been the best.
Ginny has had an on-and-off relationship with Marcus. She leaves town without informing him. There are clips of her and Marcus walking down the hall in school together… So it seems like they are together in season two The Teaser also reveals Ginny running away with her brother, trying to figure out who her mother is as a person.
In the show, Detective Gabriel Cordova (Alex Mallari Jr). is talking to Ginny about her Mom "Ginny, your mom is a dangerous person." "I know you think she wouldn't hurt you or your brother but that doesn't mean she wouldn't hurt someone else," Says Detective Gabriel Cordova. 
We can also see that the trailer teased that Austin reunites with his biological father, Gil. According to Georgia during season one, Gil went to jail for alleged embezzlement. Throughout the first season, Georgia did a good job protecting her children from her past. The lingering question everyone has now is, can she do the same during the second season?