Lisa Marie Presley Dead At 54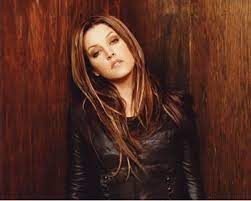 Lisa Marie Presley, the only child, and daughter of a rock n' roll legend, Elvis Presley died on Thursday, January 12, 2023, from cardiac arrest. Her mother, Priscilla Presley, said in a statement "It is with a heavy heart that I must share the devastating news that my beautiful daughter Lisa Marie has left us." Priscilla Presley appeared with her daughter, Lisa Marie Presley at the Golden Globes on Tuesday, just days before her death.
On Tuesday night, Priscilla and Lisa Marie Presley, sat side by side at their table at the Golden Globe watching Austin Butler's take on portraying Presley. Los Angeles paramedics were dispatched to a Calabasas home at 10:37 AM following a report of a woman in full cardiac arrest. The property indicates that Presley was a resident at that address. Paramedics arrived about six minutes later. A statement from the Los Angeles County Sheriff's Department said paramedics performed CPR and "determined if the patient had signs of life" before taking her to a hospital nearby in West Hill immediately. 
When Presley, 54, attended the Golden Globe cheering on actor Austin Butler for an award ceremony for "Best Actor in a Motion Picture" a Drama award for portraying "Elvis" a musical drama of 2022. "Thank you for opening your hearts, your memories, and your home to me," Butler says in his acceptance speech. "Lisa Marie, Priscilla, I love you forever." The performance was mind-blowing to her. "I didn't know what to do with myself after I saw it." She says. "It took, like, five days for me to process because it was so incredible and so spot on and just so authentic that, yeah, I can't even describe what it meant."
Days before she went to Memphis, Tennessee, to Graceland which was the Mansion where her father lived. She went to celebrate her father's birth anniversary on January 8. Presley recently published in People about "the horrific reality" of grief following her son Benjamin Keough's death to suicide in 2020. Presley is also a mother of actor Riley Keough and twin daughters. She wrote in August: "I've dealt with death, grief, and loss since the age of 9 years old. I've had more than anyone's fair share of it in my lifetime and somehow, I've made it this far." Lisa Marie's birth was a beautiful and happy time for her parents. Elvis Presley loved his daughter so much that he named his Jet after her. Later, her parents divorced in 1973, and she lived with her mother in Los Angeles, and regularly visited her father in his home. Elvis died in 1977, at age 42. It was said by doctors that he died from a heart attack, likely because he had an addiction to barbiturates (which was his prescription medication). Barbiturates are any of a class of sedative and sleep-inducing drugs derived from barbituric acid. 
She was troubled in her teenage years. In 2003, she told the Los Angeles Times, following her father's death, her mother sent her to a series of private schools for "acting out and acting out in drugs." She said, "I was kind of a loner, a melancholy and strange child." She continued by saying "I had a real self-destructive mode for a while. I never really fit into school. I didn't have any direction."
Lisa Marie started becoming addicted to opioids and painkillers in 2008, after the birth of her twin daughters. Sometimes it was difficult to keep herself together. She opened up about her addiction and even wrote a book in 2019, called "The United States of Opioids: A prescription for Liberating a Nation in pain."In her writing she wrote: "Many more people are suffering silently, addicted to opioids and other substances. I am writing this in the hope that I can play a small part in focusing attention on this terrible crisis."
She also already had two children, Riley and Benjamin, with her first husband, musician Danny Keough. Her second marriage was to Michael Jackson, a legend of pop, in May 1994. (They divorced in 1997). Lisa Marie wrote songs to recover from her marriage with Michael Jackson. In 2003, she told Rolling Stone magazine, she has been protecting his allegations of child abuse and that she was attracted to his mysterious lifestyle. She said she was "not proud and she got really ugly at the end." She demanded a divorce, and he refused to speak to her, causing her to have mental and physical breakdowns, and she wrote songs to overcome him. "I am not into bashing Micahel at all. I know people want to know what that was about, and I am trying to say it without making Michael look like a bad guy." She said, at the end of the 1990s, she stepped into the spotlight as a musician after her father. She performed one of her late father's songs in 1997. She was encouraged by songwriter and producer Glen Ballard to do solo music, released as her debut album in 2000. She touched and inspired lots of people with her music and her writing.