First Group of Brothers Face Each Other in the Superbowl. THE KELCE BOWL nears!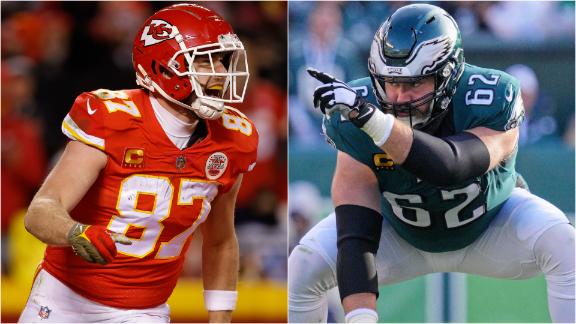 On Saturday, April 30th during the sixth round of the NFL draft, the Philadelphia Eagles selected Cincinnati Bearcats center Jason Kelce. Little did the organization know at that point that Jason Kelce would eventually turn into a five-time all-pro and six-time pro bowler who would become an essential piece in not only one but two different Super Bowl runs. Only two years later on April 26th, 2013 in the third round of the NFL draft, the Kansas City Chiefs selected Cincinnati Bearcats tight end Travis Kelce with the 62nd overall pick. Unlike his brother Jason, the Chiefs hoped that Travis would one day become an all-star starter since they drafted him with such a prime pick, luckily for the Chiefs, they were right. Travis turned into a four-time all-pro and an eight-time pro bowler. Travis currently holds the record for most consecutive 1000 yards seasons as a tight end with seven, and he's also tied for 2nd for most all-time postseason touchdowns at any position with 15. 
The Kelce brothers have both been game-changing forces for their respective teams since they entered the NFL. This year however they have made history, as the first brother pair to ever faceoff in the Super Bowl. Some have taken to Twitter and deemed it the "Kelce Bowl." The Kelce duo have had a historic year, both were selected to the pro bowls and all pro teams, not to mention they are currently running the number one sports podcast over multiple platforms. Former NFL kicker and punter, and internet personality Pat McAfee said on Twitter "THE MOST PERFECT YEAR to start a pod(cast)." Everything has seemed to go right for the brothers this year and now it's time to find out who will be able to cap off their great season with a win at the most important game of the year. 
The Kelce brothers have been able to overcome the most improbable odds and both make it to the tip of the mountain, now we wait for the faithful day when everyone gathers around the tv to finally find out which brother will make it to the top first and be able to hoist the iconic Lombardi Trophy.