Music in FFA Has More of an Impact Than You Think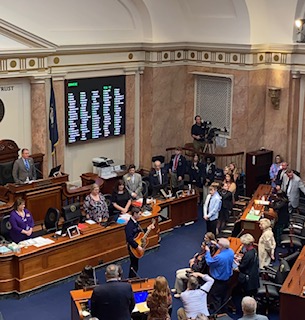 Bourbon County's FFA Chapter, as well as Paris Independent, visited the state capitol last Thursday, in celebration of FFA week. Meeting several House members, including Bourbon County's Matt Koch, the chapters were taught how FFA impacts the whole state and its importance within the legislature. After watching an Ag-related committee meeting, students had the opportunity to see the old state capitol and learn all about the history of the Senate, as well as The House of Representatives of Kentucky. Enjoying a late lunch in downtown Frankfort, students made their way back to the (new) capitol to watch the opening of the session. One of Bourbon County's FFA members, Joe Fristch, opened the session by playing 'My Old Kentucky Home' on his acoustic guitar. From the balcony looking down, house members were seen smiling and applauded Joe with a standing ovation. The rising guitarist is also known for opening the FFA State Convention last June, playing in several holiday events, and winning multiple contests throughout the musical side of FFA. An event he is still congratulated for is playing 'Don't Stop Believin' by Journey at the FFA camp talent show. While he played his guitar, FFA Reporter, Izzy Tucker sang, and the rest of the members joined them. In the end, he had the whole camp singing and dancing along on stage. 
When people think of FFA, they think of farmers, animals, and tractors. However, it has been proved in a recent study from the Journal of Agricultural Education that music has had a heavy impact on building leadership skills, confidence, and the ability to meet new people. A member of the National FFA band swears by the impact of music and says, "Participating in the FFA band will provide an experience performing before a very large audience. It will also enable you to meet new people, to form friendships and future career contacts, learn different styles of music from different instructor(s), along with a fast-paced learning experience unlike regular high school bands." Music in FFA isn't talked about enough, and that needs to change. Musicians from all over the country are playing a "behind the scenes role" of helping to grow a long-time organization. FFA provides numerous leadership skills that cross multiple career pathways, and allow its members to use a variety of talents to promote agricultural success.