Choosing a College! What are Loans, Scholarships, and Grants?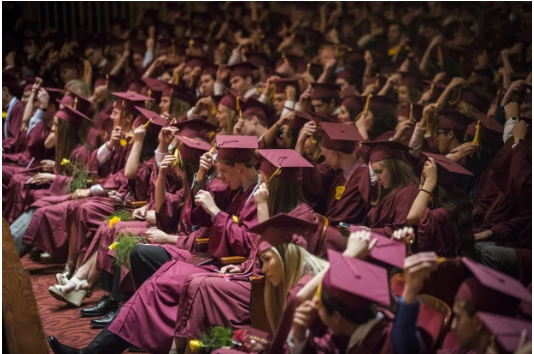 As the end of the school year continues to get closer, seniors are scrambling to apply for scholarships, grants, and student loans. However, seniors must decide on the college they want to attend beforehand. Colleges look into the grades teenagers get, the high school curriculum students undergo, standardized test scores, extracurricular activities, and in some cases, an essay attached to the application. In other words, students should find a college that accommodates most of their requirements. Students should consider the location and distance from their homes, cost and fees, class sizes, offered extracurricular activities and athletics, offered majors and minors, campus life, academic support, safety, internship opportunities, as well as their perspective of the college campus. 
Student loans are the most commonly used type of financial assistance for college. Loans often have fewer requirements that the student must reach to qualify and are prominent in supply. Loans are accessible to a broader range of people. However, student loans are not free and must be paid back. Federal loans are more desirable since they have lower interest rates and allow flexible payments. However, private loans are more common. Since they are funded by banks, credit unions, and other private organizations they have higher interest rates and allow less payment flexibility.
Scholarships are one of the best ways to reduce the burden of debt associated with pursuing higher education. Surveys done by U.S. News & World Reports state that the average college student graduates with around $30,000 in student loans they have to pay back. Many student loans carry high-interest rates and create a severe financial burden for young students. Scholarships, however, help students afford college without any strings attached. Scholarship recipients can pay off loans more quickly and use their income to begin saving for their future. Scholarships are merit-based and awarded to students based on their academic achievements, extracurricular activities, and more. 
Like scholarships, grants are free financial aid that does not need to be paid back. The main difference between a grant and a scholarship is how one obtains them. Grants and scholarships have different application processes, eligibility requirements, and different ways of funding. Generally, grants are given based on financial need, with funds obtained through federal and state governments. Some grant options include the Teach Education Assistance for College and Higher Education Grants (TEACH), Pell Grants, Federal Supplemental Educational Opportunity Grants (FSEOG), and Iraq and Afghanistan Service Grants.