Kentucky Wildcats Past Games Review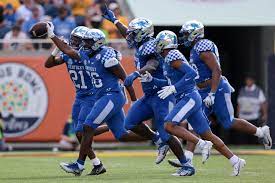 Kentucky Wildcats Past Games Review
The Kentucky Wildcats football team has had over fifteen wins over the past two years. Over those past two years they have faced several struggles trying to overcome their mistakes they have made during the games, such as fumbling the ball or not running the yards for touchdowns. Their 2020 season finished with a 5-6 record. The team finished the season off ranked last in the SEC's passing offense category.  Kentucky was a run first offense but needed to run a certain number of yards to be considered third in SEC's. It was not possible for them to go into the 2021 season like that, so their coach, Mark Stoops decided to make a change. In came a former RAMS assistant Liam Coen.
 My prediction for this season (2022) is that they will win almost every game considering they have been practicing a lot and with new transfers (who have arrived from better teams with more rigorous practices) such as Beau Allen, Rickey Hyatt, and Terrance Marshall.  Chris Doering predicted that "the Cats can go to 11-1 this season"; however, he "doesn't think they can defeat Tennessee" this year again. Tennessee is ranked 6th, but Kentucky is in the 4th rank as of now. The Wildcats won 20-13 last year, but this time it's the SEC opener. Their games against Georgia and South Carolina are home games, but Tennessee is on the road. 
 Kentucky has an FPI ( football power index ) of 12.0 which could rank them as number eighteen in the country and ranking them in number seven in SEC's. The Cats have about a 95% chance of going to the bowl and almost a 10% of winning the SEC championship.  Even with only a 10% chance of winning the championship, here's to the Big Blue Nation going all the way! Look out for more news when the season comes closer.