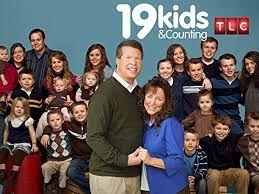 Imagine living with 20 people, 18 of those being your siblings. The Duggar family is a popular family that was given a reality TV show, 19 and counting. This show covered the day-to-day in the Duggar's hectic life. The show "19 and Counting" ran for 10 seasons, and 7 years. It is reported that the Duggar parents received 18 million dollars throughout this season. Yet, their children received none of it. On the outside, this family was seemingly perfect and very tight-knit. But Jill Duggar, one of the oldest daughters, has recently spoken out about the abuse and manipulation she and her siblings faced growing up in this family. 
Jill's parents were reportedly very religious and manipulative in their teachings. It was said that they taught their children teachings that applied to what they wanted their children to do and left out the teachings that would contradict what they wanted to do. Jill grew up thinking that was just how life was until she got married and started her own family. Jill realized that her father was keeping money she and her siblings were owed from doing the show. Jill took matters into her own hands opening up a lawsuit against her parents which is reportedly still in the works. Jill has faced hate and intimidation from her family and those close to her for finally speaking out. 
Jill has felt that she was never treated justly in her family. Josh Duggar was accused of molesting his two sisters, Jill and Jenna, when they were children. Police found Child p*rnogr*phy on Josh's computers which led to his arrest and the sentence of 12.5 years. When Jill first talked about the things her brother did to her she talked as if he was innocent and didn't mean to do these things and she talked about what a good man and father he is. Jill later came out and told the news that her parents and siblings were pressuring her to give public support to Josh and make him look like a good guy to try and save their TV show. Jill has finally spoken out about the cruelty she suffered growing up in her family.
Story continues below advertisement