Elementary School Events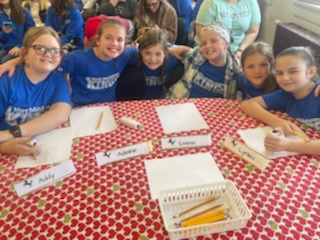 Hosting a District Governor's Cup is a significant undertaking for any school and it's impressive to see North Middletown Elementary School take on that responsibility–such events require a lot of coordination and planning, from arranging logistics to coordinating with other schools.
Each elementary school has its own Academic Team, which consists of a Quick Recall team, Future Problem Solving (FPS) Team, and some students take tests in individual categories such as Writing Composition, Science, and Arts and Humanities. 
Hosting events like these can provide an opportunity for teachers and school administrators to see how their students measure up against those from other schools in the district. This can help them identify areas where their school's curriculum and teaching methods may need improvement and make changes accordingly.
Moreover, events like the District Governor's Cup can help students develop important skills such as teamwork, critical thinking, and time management. Participating in academic competitions can also boost students' confidence and self-esteem and provide a sense of accomplishment.
Overall, the Academic Teams at each elementary school and events like the District Governor's cup are excellent ways to promote academic excellence and foster a love of learning among students.
Not only do academic teams create a love of learning among students, but also so does Read Across America week, and Cane Ridge Elementary School celebrated in a BIG way.  Students could dress up each day, participate in a bookmark design contest, see a hallway display of 5th graders' favorite books, eat green eggs and ham, and participate in over 70 guest readers! 
Guest readers included:
TV Personalities: WKYT News Anchor Amber Philpott, Chief Meteorologist Justin Logan, and Channel 36 Lee Cruse and Hayley from the Lee and Hayley Show 
High School students:  Tyra Meeks, Katie Hacker, Zaida Villanueva, Miles Ezell, Cain Flynn, Gabe Witt, Lilia Steen, Laiken Hardin, Khloe Wagoner, Brooklyn Clemons, Xavier Earlywine, Silas Feedback, Priscilla Holzhause
Community Members: Superintendent Amy Baker, State Representative Matt Koch, Gary Wilson, Brent Wilson, Branson Eubank, Lorrain Smoot, Sarah Thwaites, Adam Harmon,  Pat Phipps, Kim Wornall , Josie Taylor David Whitley, Lieutenant Boyer, Rhonda Watson, Kathi Haley, Janelle McCurry, Tyra Meeks, Jessica Leonard, Andy Dutton, Misty Collins, Abbey Allan, Miranda Wyles, Josh Hutchison, Brian Rose, Amber Williams, Susie Jackson, Terry Box, Paula Moran Jerry Baker, Martha Baker, Tina Jacobson, 
Ana Feedback, Evan Ezell, Salena Hurter, Morgan Perkins, Heather Collins, Sonya Carrell, Elizabeth Buckler, Jayne Klinefelter, Sarai Taylor, Tara Richardson, Heather Anderson, Pricey Darrell, Jon Ott, Judy Wade, Josh Hutchison, Mandy Thornberry, Lorie Zajicek, Blair Osborne, Hannah Tipton
Mrs. Meeks would like to thank the cafeteria staff for an awesome Green Eggs and Ham Breakfast on Thursday, March 2nd.  Cane Ridge Elementary School even had a visit from the Cat in the Hat!
The dress up days were as follows:  
Monday Feb. 28th
Be like… Mickey and wear red 
or like Minnie and wear polka dots
Tuesday Feb. 29th
Be like… a Disney princess and wear a crown 
or a prince and dress to impress
Wednesday March 1st
Be like… Woody and wear a cowboy hat and boots
Or Jessie and wear cowboy hat or cowboy boots
Thursday March 2nd ***Eat Green Eggs and Ham Breakfast 
Be like… Daisy and wear a bow 
or Donald and wear a hat
Friday March 3rd 
Be… Incredible and dress up as your favorite book character
Or be Goofy and wear a mismatch/funny outfit.
Students also had fun in Cane Ridge's GET CAUGHT READING campaign. Their PTO sponsored a new book for every student!
Overall, we want to thank our elementary schools for hosting these events for our students and making each day at Bourbon County Schools a great place to be!